Cat and 10-week-old kitten deserted on RSPCA animal centre's doorstep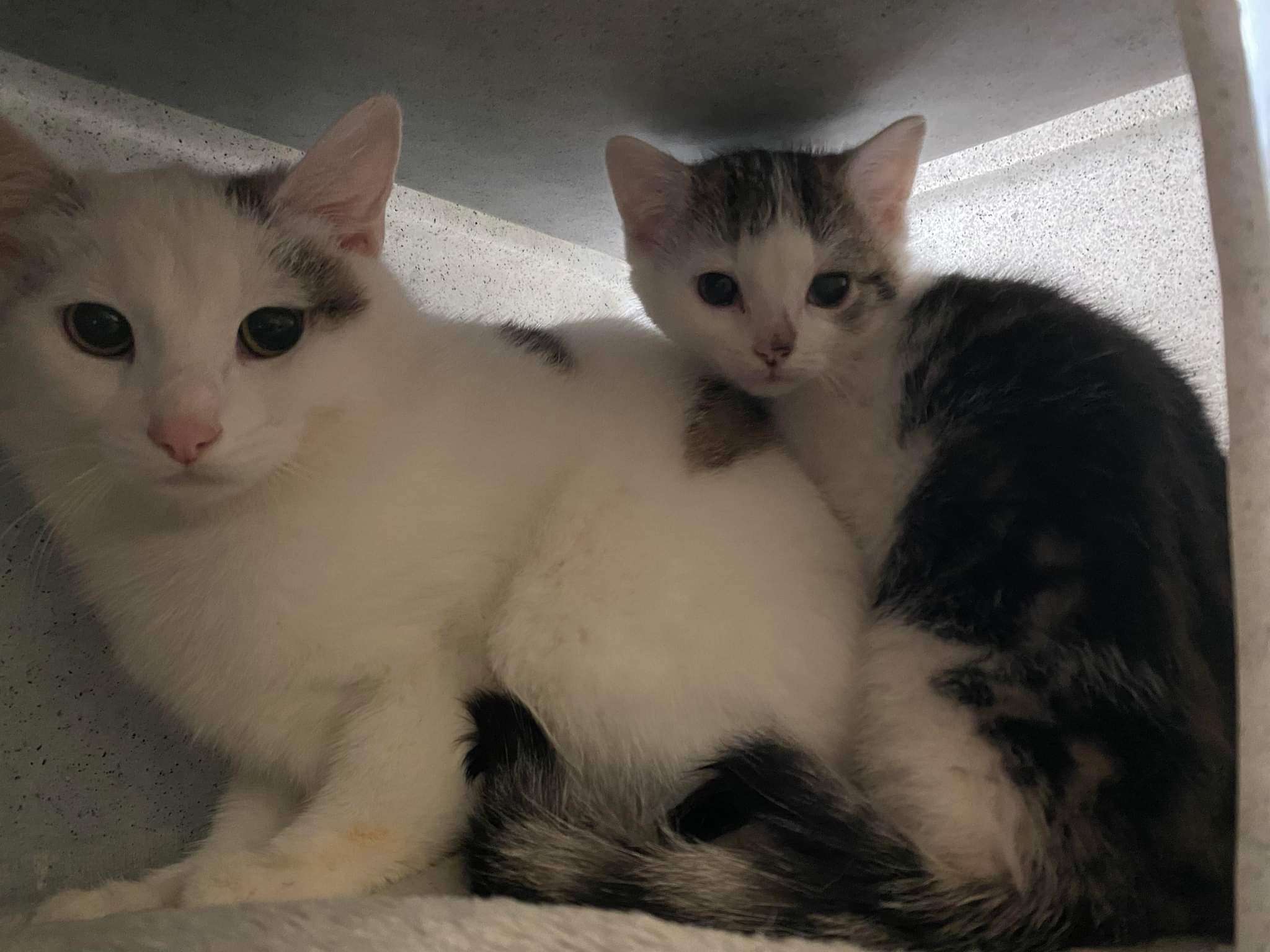 The RSPCA is investigating after two cats have been discovered deserted outdoors an animal centre.
The charity is interesting for info after CCTV confirmed the cats – an grownup feminine and her 10-week-old kitten – being dumped on the doorstep at RSPCA York Animal Home in Landing Lane, York, at 7.30pm on 27 January.
A spokesperson from the centre, mentioned: "When our workers arrived at work on 28 January they discovered the 2 kittens left on the doorstep in a plastic pet service. They'd been out all evening within the chilly.
"They have been each initially very nervous however have now settled in effectively and are being effectively taken care of by our workers and volunteers.
"We checked our CCTV which reveals somebody pulling up outdoors in a white automobile earlier than getting out, bringing the service to the doorstep, placing it down after which working off. They had their hood up so we don't have a transparent view of their face."
The cats – Cora and Machli – have been seen by the vet and are in good situation. They're now getting a lot of TLC from workers and can quickly be in search of new properties.
Inspector Claire Mitchell is now investigating. She mentioned: "Times have been robust and we all know that some households are struggling to maintain their pets. However it isn't acceptable to desert cats like this, particularly within the night when the rescue centre was closed, and these cats might simply have been harm or fallen in poor health.
"We perceive that circumstances change and generally folks must make actually troublesome choices about their pets. However we'd urge pet house owners who may be discovering it troublesome to care for his or her pets to ask for assist.
"I'd be eager to listen to from anybody who may recognise this individual or automobile, or who recognises the cats or is aware of the place they got here from, to get in contact with us by calling our inspector enchantment line on 0300 123 8018."
To assist in the direction of the care of Cora, Machli and the opposite cats at York Animal Home please go to www.rspca-yorkhome.org.uk/help/helping-us/donate to donate.
To assist the RSPCA proceed rescuing, rehabilitating and rehoming animals in determined want of care this winter please Join the Rescue and donate on-line or name our donation line on 0300 123 8181.
We usually write about all issues referring to cats on our Blog Katzenworld!
My associate and I are owned by 5 cheeky cats that stand up to all types of mischief that after all, you'll additionally be capable of discover out extra about on our Blog
If you have an interest in becoming a member of us by changing into a daily contributor/visitor writer do drop us a message @ info@katzenworld.co.uk .
html div#vHbBayqIax div#vHbBayqIax_inpost.columbine-container { background: #fff; border: 3px strong #91a6bf; -webkit-border-radius: 5px; -moz-border-radius: 5px; border-radius: 5px; margin: 10px auto; text-align: heart; width: 100%; padding: 20px 30px; coloration: #555; -webkit-box-sizing: border-box; -moz-box-sizing: border-box; box-sizing: border-box; } html div#vHbBayqIax div#vHbBayqIax_inpost.columbine-container div.columbine-miniText { font-size: 1em; line-height: 28px; text-transform: uppercase; coloration: #54C3A5; font-weight: daring; font-family: Lora, Helvetica, Arial, sans-serif; } html div#vHbBayqIax div#vHbBayqIax_inpost.columbine-container div.columbine-heading { font-weight: daring; line-height: 1.5; } html div#vHbBayqIax div#vHbBayqIax_inpost.columbine-container div.columbine-caption { margin-top: 12px; font-style: italic; font-size: 18px; line-height: 28px; } html div#vHbBayqIax div#vHbBayqIax_inpost.columbine-container .columbine-form { overflow: hidden; margin-top: 20px; } html div#vHbBayqIax div#vHbBayqIax_inpost.columbine-container div.columbine-three-col1 { float: left; width: 33.333%; } html div#vHbBayqIax div#vHbBayqIax_inpost.columbine-container div.columbine-three-col2 { float: left; width: 33.333%; } html div#vHbBayqIax div#vHbBayqIax_inpost.columbine-container div.columbine-three-col3 { float: left; width: 33.333%; } html div#vHbBayqIax div#vHbBayqIax_inpost.columbine-container div.columbine-two-col1 { float: left; width: 66.333%; } html div#vHbBayqIax div#vHbBayqIax_inpost.columbine-container div.columbine-two-col2 { float: proper; width: 33.333%; } html div#vHbBayqIax div#vHbBayqIax_inpost.columbine-container enter.columbine-input, html div#vHbBayqIax div#vHbBayqIax_inpost.columbine-container enter.mo-optin-form-custom-field.date-field, html div#vHbBayqIax div#vHbBayqIax_inpost.columbine-container enter.mo-optin-form-custom-field.text-field, html div#vHbBayqIax div#vHbBayqIax_inpost.columbine-container enter.mo-optin-form-custom-field.password-field, html div#vHbBayqIax div#vHbBayqIax_inpost.columbine-container choose.mo-optin-form-custom-field, html div#vHbBayqIax div#vHbBayqIax_inpost.columbine-container textarea.mo-optin-form-custom-field { background-color: #ffffff; width: 100%; show: block; -webkit-box-sizing: border-box; -moz-box-sizing: border-box; box-sizing: border-box; -webkit-border-radius: 0; -moz-border-radius: 0; border-radius: 0; padding: 11px 17px; font-size: 16px; line-height: 16px; text-align: left; border: 1px strong #ccc; coloration: #555; define: none; margin: 0; } html div#vHbBayqIax div#vHbBayqIax_inpost.columbine-container enter.columbine-input, html div#vHbBayqIax div#vHbBayqIax_inpost.columbine-container enter.mo-optin-form-custom-field.date-field, html div#vHbBayqIax div#vHbBayqIax_inpost.columbine-container enter.mo-optin-form-custom-field.text-field, html div#vHbBayqIax div#vHbBayqIax_inpost.columbine-container enter.mo-optin-form-custom-field.password-field, html div#vHbBayqIax div#vHbBayqIax_inpost.columbine-container textarea.mo-optin-form-custom-field.textarea-field { -webkit-appearance: none; } html div#vHbBayqIax div#vHbBayqIax_inpost.columbine-container enter.columbine-submit, html div#vHbBayqIax div#vHbBayqIax_inpost.columbine-container enter[type="submit"].mo-optin-form-cta-button { show: block; -webkit-box-sizing: border-box; -moz-box-sizing: border-box; box-sizing: border-box; -webkit-appearance: none; border: 0; background: #54C3A5; padding: 13px 10px; font-size: 16px; line-height: 16px; text-align: heart; coloration: #fff; define: none; cursor: pointer; font-weight: 700; width: 100%; margin: 0; border-radius: 0; } html div#vHbBayqIax div#vHbBayqIax_inpost.columbine-container div.columbine-note { margin-top: 10px; line-height: regular; } html div#vHbBayqIax div#vHbBayqIax_inpost.columbine-container div.mo-optin-error { show: none; background: #FF0000; coloration: white; text-align: heart; padding: .2em; margin: 0; width: 100%; font-size: 16px; -webkit-box-sizing: border-box; -moz-box-sizing: border-box; box-sizing: border-box; border: 1px strong #FF0000; } @media solely display screen and (max-width: 650px) { html div#vHbBayqIax div#vHbBayqIax_inpost.columbine-container div.mo-optin-error { margin-bottom: -10px; } html div#vHbBayqIax div#vHbBayqIax_inpost.columbine-container div.columbine-two-col1, html div#vHbBayqIax div#vHbBayqIax_inpost.columbine-container div.columbine-two-col2, html div#vHbBayqIax div#vHbBayqIax_inpost.columbine-container div.columbine-three-col1, html div#vHbBayqIax div#vHbBayqIax_inpost.columbine-container div.columbine-three-col2, html div#vHbBayqIax div#vHbBayqIax_inpost.columbine-container div.columbine-three-col3 { float: none; width: 100%; margin-right: 0; margin-top: 10px; } } html div#vHbBayqIax.mo-optin-has-custom-field div#vHbBayqIax_inpost.columbine-container div.columbine-column, html div#vHbBayqIax.mo-optin-has-custom-field div#vHbBayqIax_inpost.columbine-container div.columbine-two-col1, html div#vHbBayqIax.mo-optin-has-custom-field div#vHbBayqIax_inpost.columbine-container div.columbine-two-col2, html div#vHbBayqIax.mo-optin-has-custom-field div#vHbBayqIax_inpost.columbine-container div.columbine-three-col1, html div#vHbBayqIax.mo-optin-has-custom-field div#vHbBayqIax_inpost.columbine-container div.columbine-three-col2, html div#vHbBayqIax.mo-optin-has-custom-field div#vHbBayqIax_inpost.columbine-container div.columbine-three-col3 { float: none; width: 100%; margin-right: 0; margin-top: 10px; } html div#vHbBayqIax.mo-optin-has-custom-field div#vHbBayqIax_inpost.columbine-container div.columbine-column textarea.mo-optin-form-custom-field.textarea-field { min-height: 80px; }div#vHbBayqIax *, div#vHbBayqIax *:earlier than, div#vHbBayqIax *:after {box-sizing: border-box;-webkit-box-sizing: border-box;-moz-box-sizing: border-box;}div#vHbBayqIax_inpost_container div#vHbBayqIax_inpost .mo-optin-field:focus {define:0}div#vHbBayqIax_inpost_container div#vHbBayqIax_inpost .mo-optin-form-submit-button:focus {define:0}div#vHbBayqIax_inpost_container div.mo-optin-powered-by{margin:5px auto 2px;text-align:heart;}div#vHbBayqIax_inpost_container div.mo-optin-powered-by a {font-size:16px !necessary; text-decoration: none !necessary;box-shadow:none !necessary;border-bottom-width:0px !necessary;cursor:pointer !necessary;}div#vHbBayqIax_inpost_container .mo-acceptance-checkbox {background-color: #fff;line-height: 0;border: 1px strong #bbb;width: 16px;min-width: 16px;top: 16px;margin: 0 5px 0 0 !necessary;define: 0;text-align: heart;vertical-align: center;clear: none;cursor: pointer;}div#vHbBayqIax_inpost_container .mo-acceptance-label {cursor:pointer}div#vHbBayqIax_inpost_container div#vHbBayqIax_inpost p {padding:0px !necessary;margin:0px !necessary;coloration:inherit;}div#vHbBayqIax .mo-optin-form-wrapper label {coloration:inherit;font-weight: regular;margin: 0;padding:0;}div#vHbBayqIax div#vHbBayqIax_inpost_container div#vHbBayqIax_inpost enter[type=submit] {-webkit-appearance: none;}div#vHbBayqIax div#vHbBayqIax_inpost_container div#vHbBayqIax_inpost enter {z-index: auto;}div#vHbBayqIax.mo-cta-button-flag .mo-optin-form-note .mo-acceptance-label {show:none;}div#vHbBayqIax .mailoptin-video-container { place: relative; padding-bottom: 56.25%; top: 0; overflow: hidden; } div#vHbBayqIax .mailoptin-video-container iframe, div#vHbBayqIax .mailoptin-video-container object, div#vHbBayqIax .mailoptin-video-container embed, div#vHbBayqIax .mailoptin-video-container video { place: absolute; prime: 0; left: 0; width: 100%; top: 100%; }html div#vHbBayqIax div#vHbBayqIax_inpost.mo-optin-form-wrapper {max-width:100% !necessary}#vHbBayqIax .mo-optin-form-container .mo-optin-spinner { border-radius: inherit; place: absolute; width: 100%; top: 100%; background: #fff url(https://katzenworld.co.uk/wp-content/plugins/mailoptin/src/core/src/property/photographs/spinner.gif) 50% 50% no-repeat; left: 0; prime: 0; opacity: 0.99; filter: alpha(opacity=80); } #vHbBayqIax .mo-optin-form-container .mo-optin-success-close { font-size: 32px !necessary; font-family: "HelveticaNeue – Light", "Helvetica Neue Light", "Helvetica Neue", Helvetica, Arial, "Lucida Grande", sans-serif !necessary; coloration: #282828 !necessary; font-weight: 300 !necessary; place: absolute !necessary; prime: 0 !necessary; proper: 10px !necessary; background: none !necessary; text-decoration: none !necessary; width: auto !necessary; top: auto !necessary; show: block !necessary; line-height: 32px !necessary; padding: 0 !necessary; -moz-box-shadow: none !necessary; -webkit-box-shadow: none !necessary; box-shadow: none !necessary; } #vHbBayqIax .mo-optin-form-container .mo-optin-form-wrapper .mo-optin-success-msg { font-size: 21px; font-family: "HelveticaNeue – Light", "Helvetica Neue Light", "Helvetica Neue", Helvetica, Arial, "Lucida Grande", sans-serif; coloration: #282828 !necessary; font-weight: 300; text-align: heart; margin: 0 auto; width: 100%; place: absolute !necessary; left: 50%; prime: 50%; -webkit-transform: translate(-50%, -50%); -moz-transform: translate(-50%, -50%); -o-transform: translate(-50%, -50%); -ms-transform: translate(-50%, -50%); rework: translate(-50%, -50%); } #vHbBayqIax .mo-optin-form-container .mo-optin-form-wrapper .mo-optin-success-msg a { coloration: #0000EE; text-decoration: underline; } html div#vHbBayqIax .mo-optin-form-container .mo-optin-form-wrapper .mo-optin-fields-wrapper .list_subscription-field:not(choose), html div#vHbBayqIax .mo-optin-form-container .mo-optin-form-wrapper .mo-optin-fields-wrapper .checkbox-field, html div#vHbBayqIax .mo-optin-form-container .mo-optin-form-wrapper .mo-optin-fields-wrapper .radio-field, html div#vHbBayqIax .mo-optin-form-container .mo-optin-form-wrapper .mo-optin-fields-wrapper .select-field { margin-top: 6px; } html div#vHbBayqIax .mo-optin-form-container .mo-optin-form-wrapper .mo-optin-fields-wrapper .checkbox-field, html div#vHbBayqIax .mo-optin-form-container .mo-optin-form-wrapper .mo-optin-fields-wrapper .radio-field, html div#vHbBayqIax .mo-optin-form-container .mo-optin-form-wrapper .mo-optin-fields-wrapper .select-field { text-align: left; padding: 6px; } html div#vHbBayqIax .mo-optin-form-container .mo-optin-form-wrapper .mo-optin-fields-wrapper .checkbox-field label, html div#vHbBayqIax .mo-optin-form-container .mo-optin-form-wrapper .mo-optin-fields-wrapper .radio-field label { show: block; text-align: left; margin-top: 6px; } html div#vHbBayqIax .mo-optin-form-container .mo-optin-form-wrapper .mo-optin-fields-wrapper .checkbox-field label enter, html div#vHbBayqIax .mo-optin-form-container .mo-optin-form-wrapper .mo-optin-fields-wrapper .radio-field label enter { margin-right: 5px; vertical-align: center; } html div#vHbBayqIax .mo-optin-form-container .mo-optin-form-wrapper .mo-optin-fields-wrapper .select-field choose { width: 100%; } html div#vHbBayqIax div#vHbBayqIax_inpost .mo-optin-fields-wrapper .list_subscription-field:not(choose), html div#vHbBayqIax div#vHbBayqIax_inpost .mo-optin-fields-wrapper .mo-optin-form-custom-field.checkbox-field, html div#vHbBayqIax div#vHbBayqIax_inpost .mo-optin-fields-wrapper .mo-optin-form-custom-field.radio-field { padding: 0 !necessary; border: 0 !necessary; background: clear !necessary; } html div#vHbBayqIax .mo-optin-form-container .mo-optin-form-wrapper .mo-optin-fields-wrapper .list_subscription-field label { show: block !necessary; margin: 5px 0 !necessary; } html div#vHbBayqIax .mo-optin-form-container .mo-optin-form-wrapper .mo-optin-fields-wrapper .list_subscription-field label:last-child { margin: 0; } html div#vHbBayqIax .mo-optin-form-container .mo-optin-form-wrapper .mo-optin-fields-wrapper .list_subscription-field enter[type=checkbox] { cursor: pointer; } .mailoptin-content-lock { coloration: clear!necessary; text-shadow: rgba(0,0,0,.5) 0 0 10px; -moz-user-select: none; -ms-user-select: none; user-select: none; pointer-events: none; filter: url("knowledge:picture/svg+xml;utf9,#blur"); -webkit-filter: blur(10px); -ms-filter: blur(10px); -o-filter: blur(10px); filter: blur(10px); } div#vHbBayqIax div#vHbBayqIax_inpost .mo-optin-form-headline, div#vHbBayqIax div.mo-optin-form-container h2, div#vHbBayqIax div.mo-optin-form-container h1 { font-size: 32px !necessary; }div#vHbBayqIax div#vHbBayqIax_inpost .mo-optin-form-description, div#vHbBayqIax div.mo-optin-form-container div#vHbBayqIax_inpost p { font-size: 18px !necessary; }div#vHbBayqIax div#vHbBayqIax_inpost .mo-optin-form-note { font-size: 14px !necessary; }@media display screen and (max-width: 768px) { div#vHbBayqIax div#vHbBayqIax_inpost .mo-optin-form-headline, div#vHbBayqIax div.mo-optin-form-container div#vHbBayqIax_inpost h2, div#vHbBayqIax div.mo-optin-form-container div#vHbBayqIax_inpost h1 { font-size: 30px !necessary; } div#vHbBayqIax div#vHbBayqIax_inpost .mo-optin-form-description, div#vHbBayqIax div.mo-optin-form-container div#vHbBayqIax_inpost p { font-size: 18px !necessary; } div#vHbBayqIax div#vHbBayqIax_inpost .mo-optin-form-note { font-size: 14px !necessary; } }@media display screen and (max-width: 480px) { div#vHbBayqIax div#vHbBayqIax_inpost .mo-optin-form-headline, div#vHbBayqIax div.mo-optin-form-container div#vHbBayqIax_inpost h2, div#vHbBayqIax div.mo-optin-form-container div#vHbBayqIax_inpost h1 { font-size: 25px !necessary; } div#vHbBayqIax div#vHbBayqIax_inpost .mo-optin-form-description, div#vHbBayqIax div.mo-optin-form-container div#vHbBayqIax_inpost p { font-size: 16px !necessary; } div#vHbBayqIax div#vHbBayqIax_inpost .mo-optin-form-note, div#vHbBayqIax div#vHbBayqIax_inpost .mo-optin-form-note * { font-size: 12px !necessary; } } #vHbBayqIax #vHbBayqIax_inpost .mo-optin-field.mo-optin-form-name-field::-webkit-input-placeholder { coloration: #555555 !necessary; } #vHbBayqIax #vHbBayqIax_inpost .mo-optin-field.mo-optin-form-name-field:-ms-input-placeholder { coloration: #555555 !necessary; } #vHbBayqIax #vHbBayqIax_inpost .mo-optin-field.mo-optin-form-name-field::placeholder { coloration: #555555 !necessary; } #vHbBayqIax #vHbBayqIax_inpost .mo-optin-field.mo-optin-form-email-field::-webkit-input-placeholder { coloration: #555555 !necessary; } #vHbBayqIax #vHbBayqIax_inpost .mo-optin-field.mo-optin-form-email-field:-ms-input-placeholder { coloration: #555555 !necessary; } #vHbBayqIax #vHbBayqIax_inpost .mo-optin-field.mo-optin-form-email-field::placeholder { coloration: #555555 !necessary; } div#vHbBayqIax .mo-mailchimp-interest-container { margin: 0 10px 2px; } div#vHbBayqIax .mo-mailchimp-interest-label { font-size: 16px; margin: 5px 0 2px; } div#vHbBayqIax .mo-mailchimp-interest-category-label { font-size: 14px; margin: 5px 0 2px; } div#vHbBayqIax enter.mo-mailchimp-interest-choice { line-height: regular; border: 0; margin: 0 5px; } div#vHbBayqIax span.mo-mailchimp-choice-label { vertical-align: center; font-size: 14px; } div#vHbBayqIax .mo-mailchimp-interest-choice-container { margin: 5px 0; }