Hi everybody,
Please discover beneath the most recent entry in Purrsday Poetry by Andrea.
Artimus
She hunkers on haunches
by the dishwasher
in studied readiness.
A woolly bowling pin
with ears.
They have rallied there — earlier than
the transform —
a short respite to indoor spoils.
Her inside Artemis whispers —
be nonetheless. They'll convene in
time, tumbling by way of warning,
to disaster.
Andrea Ok. Perlow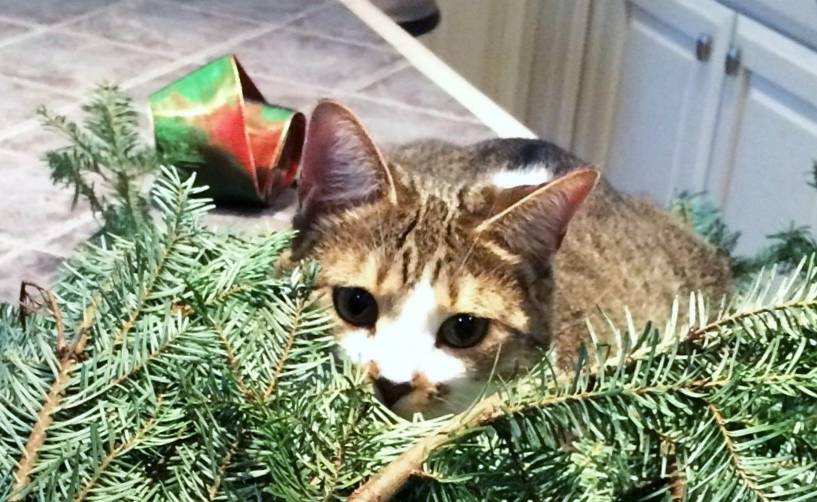 If you want to enter your individual poems for Purrsday Poetry don't neglect to e-mail info@katzenworld.co.uk
We commonly write about all issues referring to cats on our Blog Katzenworld!
My associate and I are owned by 5 cheeky cats that stand up to every kind of mischief that in fact, you'll additionally be capable to discover out extra about on our Blog
If you have an interest in becoming a member of us by turning into a daily contributor/visitor creator do drop us a message @ info@katzenworld.co.uk .
html div#vHbBayqIax div#vHbBayqIax_inpost.columbine-container { background: #fff; border: 3px strong #91a6bf; -webkit-border-radius: 5px; -moz-border-radius: 5px; border-radius: 5px; margin: 10px auto; text-align: middle; width: 100%; padding: 20px 30px; shade: #555; -webkit-box-sizing: border-box; -moz-box-sizing: border-box; box-sizing: border-box; } html div#vHbBayqIax div#vHbBayqIax_inpost.columbine-container div.columbine-miniText { font-size: 1em; line-height: 28px; text-transform: uppercase; shade: #54C3A5; font-weight: daring; font-family: Lora, Helvetica, Arial, sans-serif; } html div#vHbBayqIax div#vHbBayqIax_inpost.columbine-container div.columbine-heading { font-weight: daring; line-height: 1.5; } html div#vHbBayqIax div#vHbBayqIax_inpost.columbine-container div.columbine-caption { margin-top: 12px; font-style: italic; font-size: 18px; line-height: 28px; } html div#vHbBayqIax div#vHbBayqIax_inpost.columbine-container .columbine-form { overflow: hidden; margin-top: 20px; } html div#vHbBayqIax div#vHbBayqIax_inpost.columbine-container div.columbine-three-col1 { float: left; width: 33.333%; } html div#vHbBayqIax div#vHbBayqIax_inpost.columbine-container div.columbine-three-col2 { float: left; width: 33.333%; } html div#vHbBayqIax div#vHbBayqIax_inpost.columbine-container div.columbine-three-col3 { float: left; width: 33.333%; } html div#vHbBayqIax div#vHbBayqIax_inpost.columbine-container div.columbine-two-col1 { float: left; width: 66.333%; } html div#vHbBayqIax div#vHbBayqIax_inpost.columbine-container div.columbine-two-col2 { float: proper; width: 33.333%; } html div#vHbBayqIax div#vHbBayqIax_inpost.columbine-container enter.columbine-input, html div#vHbBayqIax div#vHbBayqIax_inpost.columbine-container enter.mo-optin-form-custom-field.date-field, html div#vHbBayqIax div#vHbBayqIax_inpost.columbine-container enter.mo-optin-form-custom-field.text-field, html div#vHbBayqIax div#vHbBayqIax_inpost.columbine-container enter.mo-optin-form-custom-field.password-field, html div#vHbBayqIax div#vHbBayqIax_inpost.columbine-container choose.mo-optin-form-custom-field, html div#vHbBayqIax div#vHbBayqIax_inpost.columbine-container textarea.mo-optin-form-custom-field { background-color: #ffffff; width: 100%; show: block; -webkit-box-sizing: border-box; -moz-box-sizing: border-box; box-sizing: border-box; -webkit-border-radius: 0; -moz-border-radius: 0; border-radius: 0; padding: 11px 17px; font-size: 16px; line-height: 16px; text-align: left; border: 1px strong #ccc; shade: #555; define: none; margin: 0; } html div#vHbBayqIax div#vHbBayqIax_inpost.columbine-container enter.columbine-input, html div#vHbBayqIax div#vHbBayqIax_inpost.columbine-container enter.mo-optin-form-custom-field.date-field, html div#vHbBayqIax div#vHbBayqIax_inpost.columbine-container enter.mo-optin-form-custom-field.text-field, html div#vHbBayqIax div#vHbBayqIax_inpost.columbine-container enter.mo-optin-form-custom-field.password-field, html div#vHbBayqIax div#vHbBayqIax_inpost.columbine-container textarea.mo-optin-form-custom-field.textarea-field { -webkit-appearance: none; } html div#vHbBayqIax div#vHbBayqIax_inpost.columbine-container enter.columbine-submit, html div#vHbBayqIax div#vHbBayqIax_inpost.columbine-container enter[type="submit"].mo-optin-form-cta-button { show: block; -webkit-box-sizing: border-box; -moz-box-sizing: border-box; box-sizing: border-box; -webkit-appearance: none; border: 0; background: #54C3A5; padding: 13px 10px; font-size: 16px; line-height: 16px; text-align: middle; shade: #fff; define: none; cursor: pointer; font-weight: 700; width: 100%; margin: 0; border-radius: 0; } html div#vHbBayqIax div#vHbBayqIax_inpost.columbine-container div.columbine-note { margin-top: 10px; line-height: regular; } html div#vHbBayqIax div#vHbBayqIax_inpost.columbine-container div.mo-optin-error { show: none; background: #FF0000; shade: white; text-align: middle; padding: .2em; margin: 0; width: 100%; font-size: 16px; -webkit-box-sizing: border-box; -moz-box-sizing: border-box; box-sizing: border-box; border: 1px strong #FF0000; } @media solely display screen and (max-width: 650px) { html div#vHbBayqIax div#vHbBayqIax_inpost.columbine-container div.mo-optin-error { margin-bottom: -10px; } html div#vHbBayqIax div#vHbBayqIax_inpost.columbine-container div.columbine-two-col1, html div#vHbBayqIax div#vHbBayqIax_inpost.columbine-container div.columbine-two-col2, html div#vHbBayqIax div#vHbBayqIax_inpost.columbine-container div.columbine-three-col1, html div#vHbBayqIax div#vHbBayqIax_inpost.columbine-container div.columbine-three-col2, html div#vHbBayqIax div#vHbBayqIax_inpost.columbine-container div.columbine-three-col3 { float: none; width: 100%; margin-right: 0; margin-top: 10px; } } html div#vHbBayqIax.mo-optin-has-custom-field div#vHbBayqIax_inpost.columbine-container div.columbine-column, html div#vHbBayqIax.mo-optin-has-custom-field div#vHbBayqIax_inpost.columbine-container div.columbine-two-col1, html div#vHbBayqIax.mo-optin-has-custom-field div#vHbBayqIax_inpost.columbine-container div.columbine-two-col2, html div#vHbBayqIax.mo-optin-has-custom-field div#vHbBayqIax_inpost.columbine-container div.columbine-three-col1, html div#vHbBayqIax.mo-optin-has-custom-field div#vHbBayqIax_inpost.columbine-container div.columbine-three-col2, html div#vHbBayqIax.mo-optin-has-custom-field div#vHbBayqIax_inpost.columbine-container div.columbine-three-col3 { float: none; width: 100%; margin-right: 0; margin-top: 10px; } html div#vHbBayqIax.mo-optin-has-custom-field div#vHbBayqIax_inpost.columbine-container div.columbine-column textarea.mo-optin-form-custom-field.textarea-field { min-height: 80px; }div#vHbBayqIax *, div#vHbBayqIax *:earlier than, div#vHbBayqIax *:after {box-sizing: border-box;-webkit-box-sizing: border-box;-moz-box-sizing: border-box;}div#vHbBayqIax_inpost_container div#vHbBayqIax_inpost .mo-optin-field:focus {define:0}div#vHbBayqIax_inpost_container div#vHbBayqIax_inpost .mo-optin-form-submit-button:focus {define:0}div#vHbBayqIax_inpost_container div.mo-optin-powered-by{margin:5px auto 2px;text-align:middle;}div#vHbBayqIax_inpost_container div.mo-optin-powered-by a {font-size:16px !necessary; text-decoration: none !necessary;box-shadow:none !necessary;border-bottom-width:0px !necessary;cursor:pointer !necessary;}div#vHbBayqIax_inpost_container .mo-acceptance-checkbox {background-color: #fff;line-height: 0;border: 1px strong #bbb;width: 16px;min-width: 16px;top: 16px;margin: 0 5px 0 0 !necessary;define: 0;text-align: middle;vertical-align: center;clear: none;cursor: pointer;}div#vHbBayqIax_inpost_container .mo-acceptance-label {cursor:pointer}div#vHbBayqIax_inpost_container div#vHbBayqIax_inpost p {padding:0px !necessary;margin:0px !necessary;shade:inherit;}div#vHbBayqIax .mo-optin-form-wrapper label {shade:inherit;font-weight: regular;margin: 0;padding:0;}div#vHbBayqIax div#vHbBayqIax_inpost_container div#vHbBayqIax_inpost enter[type=submit] {-webkit-appearance: none;}div#vHbBayqIax div#vHbBayqIax_inpost_container div#vHbBayqIax_inpost enter {z-index: auto;}div#vHbBayqIax.mo-cta-button-flag .mo-optin-form-note .mo-acceptance-label {show:none;}div#vHbBayqIax .mailoptin-video-container { place: relative; padding-bottom: 56.25%; top: 0; overflow: hidden; } div#vHbBayqIax .mailoptin-video-container iframe, div#vHbBayqIax .mailoptin-video-container object, div#vHbBayqIax .mailoptin-video-container embed, div#vHbBayqIax .mailoptin-video-container video { place: absolute; high: 0; left: 0; width: 100%; top: 100%; }html div#vHbBayqIax div#vHbBayqIax_inpost.mo-optin-form-wrapper {max-width:100% !necessary}#vHbBayqIax .mo-optin-form-container .mo-optin-spinner { border-radius: inherit; place: absolute; width: 100%; top: 100%; background: #fff url(https://katzenworld.co.uk/wp-content/plugins/mailoptin/src/core/src/belongings/photos/spinner.gif) 50% 50% no-repeat; left: 0; high: 0; opacity: 0.99; filter: alpha(opacity=80); } #vHbBayqIax .mo-optin-form-container .mo-optin-success-close { font-size: 32px !necessary; font-family: "HelveticaNeue – Light", "Helvetica Neue Light", "Helvetica Neue", Helvetica, Arial, "Lucida Grande", sans-serif !necessary; shade: #282828 !necessary; font-weight: 300 !necessary; place: absolute !necessary; high: 0 !necessary; proper: 10px !necessary; background: none !necessary; text-decoration: none !necessary; width: auto !necessary; top: auto !necessary; show: block !necessary; line-height: 32px !necessary; padding: 0 !necessary; -moz-box-shadow: none !necessary; -webkit-box-shadow: none !necessary; box-shadow: none !necessary; } #vHbBayqIax .mo-optin-form-container .mo-optin-form-wrapper .mo-optin-success-msg { font-size: 21px; font-family: "HelveticaNeue – Light", "Helvetica Neue Light", "Helvetica Neue", Helvetica, Arial, "Lucida Grande", sans-serif; shade: #282828 !necessary; font-weight: 300; text-align: middle; margin: 0 auto; width: 100%; place: absolute !necessary; left: 50%; high: 50%; -webkit-transform: translate(-50%, -50%); -moz-transform: translate(-50%, -50%); -o-transform: translate(-50%, -50%); -ms-transform: translate(-50%, -50%); rework: translate(-50%, -50%); } #vHbBayqIax .mo-optin-form-container .mo-optin-form-wrapper .mo-optin-success-msg a { shade: #0000EE; text-decoration: underline; } html div#vHbBayqIax .mo-optin-form-container .mo-optin-form-wrapper .mo-optin-fields-wrapper .list_subscription-field:not(choose), html div#vHbBayqIax .mo-optin-form-container .mo-optin-form-wrapper .mo-optin-fields-wrapper .checkbox-field, html div#vHbBayqIax .mo-optin-form-container .mo-optin-form-wrapper .mo-optin-fields-wrapper .radio-field, html div#vHbBayqIax .mo-optin-form-container .mo-optin-form-wrapper .mo-optin-fields-wrapper .select-field { margin-top: 6px; } html div#vHbBayqIax .mo-optin-form-container .mo-optin-form-wrapper .mo-optin-fields-wrapper .checkbox-field, html div#vHbBayqIax .mo-optin-form-container .mo-optin-form-wrapper .mo-optin-fields-wrapper .radio-field, html div#vHbBayqIax .mo-optin-form-container .mo-optin-form-wrapper .mo-optin-fields-wrapper .select-field { text-align: left; padding: 6px; } html div#vHbBayqIax .mo-optin-form-container .mo-optin-form-wrapper .mo-optin-fields-wrapper .checkbox-field label, html div#vHbBayqIax .mo-optin-form-container .mo-optin-form-wrapper .mo-optin-fields-wrapper .radio-field label { show: block; text-align: left; margin-top: 6px; } html div#vHbBayqIax .mo-optin-form-container .mo-optin-form-wrapper .mo-optin-fields-wrapper .checkbox-field label enter, html div#vHbBayqIax .mo-optin-form-container .mo-optin-form-wrapper .mo-optin-fields-wrapper .radio-field label enter { margin-right: 5px; vertical-align: center; } html div#vHbBayqIax .mo-optin-form-container .mo-optin-form-wrapper .mo-optin-fields-wrapper .select-field choose { width: 100%; } html div#vHbBayqIax div#vHbBayqIax_inpost .mo-optin-fields-wrapper .list_subscription-field:not(choose), html div#vHbBayqIax div#vHbBayqIax_inpost .mo-optin-fields-wrapper .mo-optin-form-custom-field.checkbox-field, html div#vHbBayqIax div#vHbBayqIax_inpost .mo-optin-fields-wrapper .mo-optin-form-custom-field.radio-field { padding: 0 !necessary; border: 0 !necessary; background: clear !necessary; } html div#vHbBayqIax .mo-optin-form-container .mo-optin-form-wrapper .mo-optin-fields-wrapper .list_subscription-field label { show: block !necessary; margin: 5px 0 !necessary; } html div#vHbBayqIax .mo-optin-form-container .mo-optin-form-wrapper .mo-optin-fields-wrapper .list_subscription-field label:last-child { margin: 0; } html div#vHbBayqIax .mo-optin-form-container .mo-optin-form-wrapper .mo-optin-fields-wrapper .list_subscription-field enter[type=checkbox] { cursor: pointer; } .mailoptin-content-lock { shade: clear!necessary; text-shadow: rgba(0,0,0,.5) 0 0 10px; -moz-user-select: none; -ms-user-select: none; user-select: none; pointer-events: none; filter: url("knowledge:picture/svg+xml;utf9,#blur"); -webkit-filter: blur(10px); -ms-filter: blur(10px); -o-filter: blur(10px); filter: blur(10px); } div#vHbBayqIax div#vHbBayqIax_inpost .mo-optin-form-headline, div#vHbBayqIax div.mo-optin-form-container h2, div#vHbBayqIax div.mo-optin-form-container h1 { font-size: 32px !necessary; }div#vHbBayqIax div#vHbBayqIax_inpost .mo-optin-form-description, div#vHbBayqIax div.mo-optin-form-container div#vHbBayqIax_inpost p { font-size: 18px !necessary; }div#vHbBayqIax div#vHbBayqIax_inpost .mo-optin-form-note { font-size: 14px !necessary; }@media display screen and (max-width: 768px) { div#vHbBayqIax div#vHbBayqIax_inpost .mo-optin-form-headline, div#vHbBayqIax div.mo-optin-form-container div#vHbBayqIax_inpost h2, div#vHbBayqIax div.mo-optin-form-container div#vHbBayqIax_inpost h1 { font-size: 30px !necessary; } div#vHbBayqIax div#vHbBayqIax_inpost .mo-optin-form-description, div#vHbBayqIax div.mo-optin-form-container div#vHbBayqIax_inpost p { font-size: 18px !necessary; } div#vHbBayqIax div#vHbBayqIax_inpost .mo-optin-form-note { font-size: 14px !necessary; } }@media display screen and (max-width: 480px) { div#vHbBayqIax div#vHbBayqIax_inpost .mo-optin-form-headline, div#vHbBayqIax div.mo-optin-form-container div#vHbBayqIax_inpost h2, div#vHbBayqIax div.mo-optin-form-container div#vHbBayqIax_inpost h1 { font-size: 25px !necessary; } div#vHbBayqIax div#vHbBayqIax_inpost .mo-optin-form-description, div#vHbBayqIax div.mo-optin-form-container div#vHbBayqIax_inpost p { font-size: 16px !necessary; } div#vHbBayqIax div#vHbBayqIax_inpost .mo-optin-form-note, div#vHbBayqIax div#vHbBayqIax_inpost .mo-optin-form-note * { font-size: 12px !necessary; } } #vHbBayqIax #vHbBayqIax_inpost .mo-optin-field.mo-optin-form-name-field::-webkit-input-placeholder { shade: #555555 !necessary; } #vHbBayqIax #vHbBayqIax_inpost .mo-optin-field.mo-optin-form-name-field:-ms-input-placeholder { shade: #555555 !necessary; } #vHbBayqIax #vHbBayqIax_inpost .mo-optin-field.mo-optin-form-name-field::placeholder { shade: #555555 !necessary; } #vHbBayqIax #vHbBayqIax_inpost .mo-optin-field.mo-optin-form-email-field::-webkit-input-placeholder { shade: #555555 !necessary; } #vHbBayqIax #vHbBayqIax_inpost .mo-optin-field.mo-optin-form-email-field:-ms-input-placeholder { shade: #555555 !necessary; } #vHbBayqIax #vHbBayqIax_inpost .mo-optin-field.mo-optin-form-email-field::placeholder { shade: #555555 !necessary; } div#vHbBayqIax .mo-mailchimp-interest-container { margin: 0 10px 2px; } div#vHbBayqIax .mo-mailchimp-interest-label { font-size: 16px; margin: 5px 0 2px; } div#vHbBayqIax .mo-mailchimp-interest-category-label { font-size: 14px; margin: 5px 0 2px; } div#vHbBayqIax enter.mo-mailchimp-interest-choice { line-height: regular; border: 0; margin: 0 5px; } div#vHbBayqIax span.mo-mailchimp-choice-label { vertical-align: center; font-size: 14px; } div#vHbBayqIax .mo-mailchimp-interest-choice-container { margin: 5px 0; }