In February 2021, Dr. Susan Whittred, the Veterinarian and Executive Director of the Patricia H. Ladew Foundation reached out to Square Paws about renovating the cat sanctuary portion of the principle "home" at their property in Oyster Bay, NY. Susan had seen what Square Paws had executed within the Billy Joel rooms at North Shore Animal League America, and he or she contacted her buddy, Dr. Jenny Conrad, founding father of The Paw Project, to see if she knew who "Square Paws" was.
As luck would have it, Square Paws is pals of Jenny's and avid supporters of The Paw Project, so Jenny was solely too pleased to make this connection! Square Paws had briefly met Susan on the first CatCamp in NYC in 2017. Right after CatCamp completed, Jenny and Susan drove to Albany, NY to talk about a invoice with regards to cat declawing and the way it ought to be banned. Several years later in 2019, New York State handed the invoice as regulation making the declawing of cats unlawful! Dr. Whittred serves because the New York Director of The Paw Project. Moreover, Ladew had an in-house Paw Project spokescat named Rubio who was helpful in instructing NY legislators that declawing is de facto an amputation and never a toenail clipping.
Suffice it to say, the prospect of engaged on the Ladew cat-room makeover was attractive!
The first order of enterprise was to debate what the scope of the challenge would embody. Dr. Whittred acknowledged that there have been two rooms on the Ground Floor to be renovated, and, of the 4 rooms within the Basement, they wished to renovate two of them.
Ladew already had a normal contractor named Roland Gerwald on board to do some upgrades to the rooms in the home, like change out previous through-wall AC items with new, extra energy-efficient cut up system items. So a couple of Zoom calls ensued to debate prospects of this renovation.
Square Paws proposed to Susan and the Board that we do a sort of "retrovation:" to renovate, however in a manner that was very retro in model, and to make it look like the cats had been simply a median suburban household that owned this home. The design intent was to have it to look considerably "locked" in time, someplace within the 1970's with numerous fixtures and furnishings that had been eclectic of the 50's, 60's and 70's, principally in a mid-century fashionable model. And the fable created was that the husband of this cat-family was an Oyster Bay fisherman (a considerably bygone occupation in that space as of late).
Oyster Bay is legendary for the close by Sagamore Hill National Historic Site, which was the house of Theodore Roosevelt. As is frequent with historic websites, rooms are preserved "as they had been" when the particular person lived there. This additionally performed in to the design idea. Although what was created was hardly how the home "was" when Pat purchased it, Square Paws wished to emulate that impression when individuals visited.
Susan and the Ladew Board of Directors had been extraordinarily open to concepts and ideas that will make their sanctuary particular and distinctive. Patricia Ladew, who handed away in 2002, was an heiress to the Standard Oil fortune. Although Pat had damaged away from her household's pedigree and blazed her life path as an artist, she unexpectedly discovered herself as an heiress within the 1970's and determined to make use of her inheritance to purchase an previous home, pay two caretakers to reside upstairs, and have the downstairs reserved for homeless and particular wants cats that she and her pals had been rescuing within the New York/Long Island space. The NYC tabloids labeled Pat an "eccentric" heiress, which was an unfair exaggeration. To permit cats to roam the home freely was a forward-thinking concept within the 70's; Pat was manner forward of her time!
After a couple of weeks of pondering, Square Paws proposed the next specifics:
The ceilings of the Living Room and Kitchen would have brilliant paint colours, and the previous cat-runs that sat on the tops of the home windows can be raised barely and be clad with a crown molding, as if to appear prefer it had at all times been a part of the home.
An present cat-staircase within the Kitchen was taking over house and appeared higher suited within the Living Room. Thus, Square Paws designed the brand new "stairs" as a sort of suburban staircase with shelving beneath that will home a mixture of cat-beds and nautical-themed books.
To full the sensation of "homey-ness," Square Paws designed a fake hearth with the husband-cat's prized catches mounted above the mantel…fish that will double as cat-shelves. A grandfather clock, a mid-century fashionable "captain's desk" and a climbable nook desk lamp would spherical out the Living Room. In addition, there can be a Victorian-style birdcage/cat cage for when Ladew would want to introduce a brand new cat or include a cat that required particular consideration.
The Kitchen would have a brand new blue tile backsplash with new counter and base cupboards. This can be complimented with catified higher cupboards, a fake double wall-oven, a retro catified phone, a brilliant pink retro fridge, and a middle kitty eating desk, custom-made to work with Ladew's metallic bowls. The desk can be in Ladew's signature inexperienced, representing their dedication that each one cats are welcome and nourished right here. Square Paws additionally paid homage to one of many unique resident cats named Florence who lived for 5 years atop the fridge. The fridge model was thus aptly after her.
Downstairs, Square Paws deliberate for a 1960's model recreation room with a console TV and mid-century fashionable shadowbox above. And the room generally known as Pat's Cats would turn out to be an homage to Pat Ladew together with a reproduction of the entrance porch of the home, fully catified, naturally.
Roland and Gerwald Construction did all of the demolition and end work, in addition to a lot of the "built-in" work. Square Paws constructed the varied free-standing cat furnishings gadgets and several other built-in options. The two groups' work dovetailed collectively very well!
Square Paws chosen the "individuals" furnishings and curtains for the home as a part of the design, ensuring to bolster the meant nod to mid-century fashionable design. And Square Paws related Susan with artist Amy Payne, who does wonderful animal portraits! Amy immortalized a number of of Ladew's favourite household of cats, and we used these portraits to additional bolster this concept that the cats are the homeowners of the home.
In addition, Susan was in a position to get in contact with an previous buddy of Pat Ladew's, Swedish designer Anders Wenngren, who compiled a surprising graphic of all of the articles as a tribute to Pat within the Pat's Cats Room.
As the place started to rework, Susan and her workers obtained the "design bug" and had enjoyable deciding on pillows and cat beds that match with the inside design. It was such nice enjoyable to foster that sort of client-involvement!
Square Paws was positive to make use of sustainable, washable finishes and scratchable sisal rope and woven sisal wherever potential, however at all times stored the intention of brilliant, highly effective colours amidst extra muted wall and ground tones. The result's a heat, pleasant, cheerful place that we hope will present years of happiness for the Patricia H. Ladew Foundation and plenty of pleased adoptions!
Advertisements
The full vary of Necoichi raised bowls and accent now accessible @ Katzenworld Shop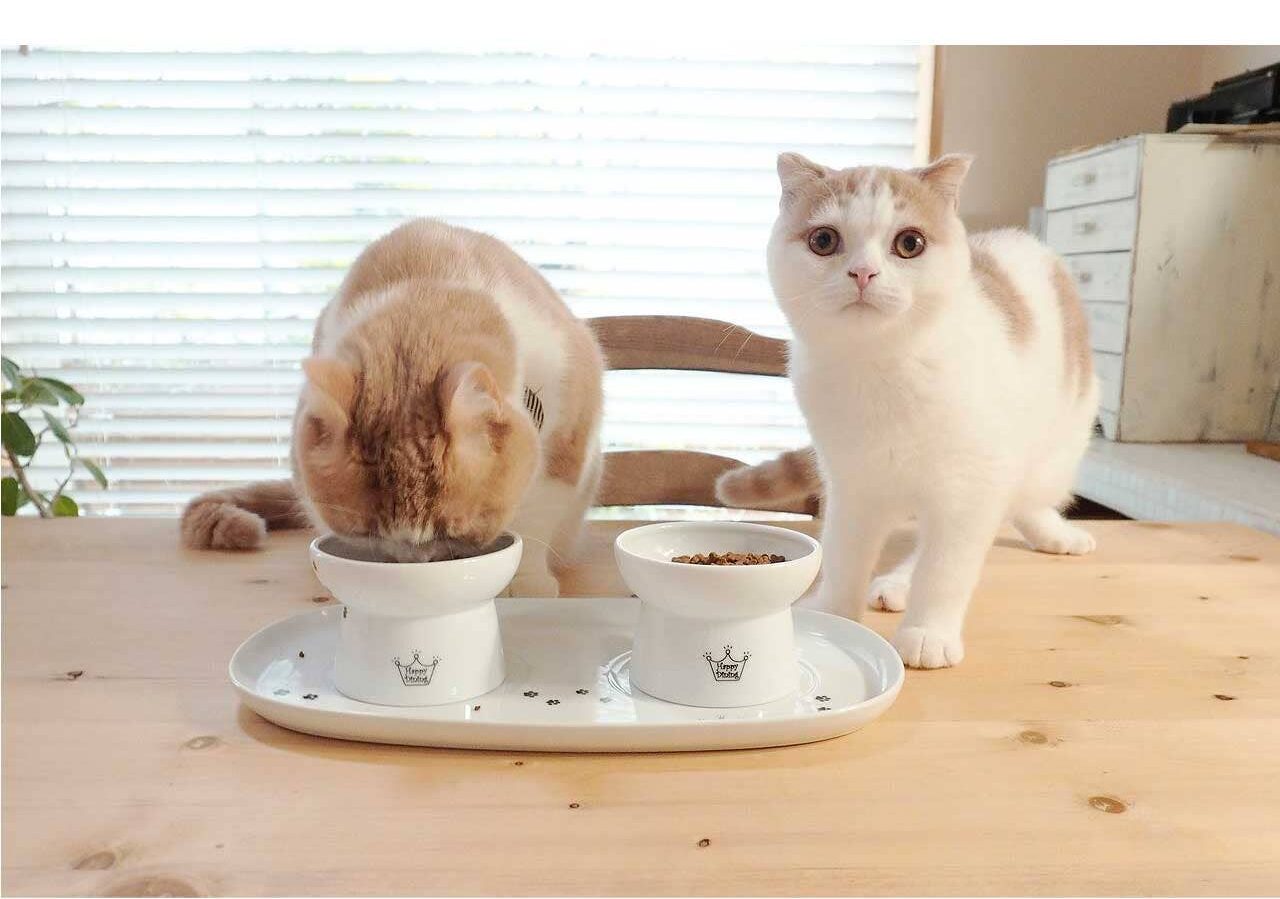 We often write about all issues referring to cats on our Blog Katzenworld!
My associate and I are owned by 5 cheeky cats that stand up to every kind of mischief that after all, you'll additionally have the ability to discover out extra about on our Blog
If you have an interest in becoming a member of us by changing into a daily contributor/visitor writer do drop us a message @ info@katzenworld.co.uk .
html div#vHbBayqIax div#vHbBayqIax_inpost.columbine-container { background: #fff; border: 3px strong #91a6bf; -webkit-border-radius: 5px; -moz-border-radius: 5px; border-radius: 5px; margin: 10px auto; text-align: heart; width: 100%; padding: 20px 30px; shade: #555; -webkit-box-sizing: border-box; -moz-box-sizing: border-box; box-sizing: border-box; } html div#vHbBayqIax div#vHbBayqIax_inpost.columbine-container div.columbine-miniText { font-size: 1em; line-height: 28px; text-transform: uppercase; shade: #54C3A5; font-weight: daring; font-family: Lora, Helvetica, Arial, sans-serif; } html div#vHbBayqIax div#vHbBayqIax_inpost.columbine-container div.columbine-heading { font-weight: daring; line-height: 1.5; } html div#vHbBayqIax div#vHbBayqIax_inpost.columbine-container div.columbine-caption { margin-top: 12px; font-style: italic; font-size: 18px; line-height: 28px; } html div#vHbBayqIax div#vHbBayqIax_inpost.columbine-container .columbine-form { overflow: hidden; margin-top: 20px; } html div#vHbBayqIax div#vHbBayqIax_inpost.columbine-container div.columbine-three-col1 { float: left; width: 33.333%; } html div#vHbBayqIax div#vHbBayqIax_inpost.columbine-container div.columbine-three-col2 { float: left; width: 33.333%; } html div#vHbBayqIax div#vHbBayqIax_inpost.columbine-container div.columbine-three-col3 { float: left; width: 33.333%; } html div#vHbBayqIax div#vHbBayqIax_inpost.columbine-container div.columbine-two-col1 { float: left; width: 66.333%; } html div#vHbBayqIax div#vHbBayqIax_inpost.columbine-container div.columbine-two-col2 { float: proper; width: 33.333%; } html div#vHbBayqIax div#vHbBayqIax_inpost.columbine-container enter.columbine-input, html div#vHbBayqIax div#vHbBayqIax_inpost.columbine-container enter.mo-optin-form-custom-field.date-field, html div#vHbBayqIax div#vHbBayqIax_inpost.columbine-container enter.mo-optin-form-custom-field.text-field, html div#vHbBayqIax div#vHbBayqIax_inpost.columbine-container enter.mo-optin-form-custom-field.password-field, html div#vHbBayqIax div#vHbBayqIax_inpost.columbine-container choose.mo-optin-form-custom-field, html div#vHbBayqIax div#vHbBayqIax_inpost.columbine-container textarea.mo-optin-form-custom-field { background-color: #ffffff; width: 100%; show: block; -webkit-box-sizing: border-box; -moz-box-sizing: border-box; box-sizing: border-box; -webkit-border-radius: 0; -moz-border-radius: 0; border-radius: 0; padding: 11px 17px; font-size: 16px; line-height: 16px; text-align: left; border: 1px strong #ccc; shade: #555; define: none; margin: 0; } html div#vHbBayqIax div#vHbBayqIax_inpost.columbine-container enter.columbine-input, html div#vHbBayqIax div#vHbBayqIax_inpost.columbine-container enter.mo-optin-form-custom-field.date-field, html div#vHbBayqIax div#vHbBayqIax_inpost.columbine-container enter.mo-optin-form-custom-field.text-field, html div#vHbBayqIax div#vHbBayqIax_inpost.columbine-container enter.mo-optin-form-custom-field.password-field, html div#vHbBayqIax div#vHbBayqIax_inpost.columbine-container textarea.mo-optin-form-custom-field.textarea-field { -webkit-appearance: none; } html div#vHbBayqIax div#vHbBayqIax_inpost.columbine-container enter.columbine-submit, html div#vHbBayqIax div#vHbBayqIax_inpost.columbine-container enter[type="submit"].mo-optin-form-cta-button { show: block; -webkit-box-sizing: border-box; -moz-box-sizing: border-box; box-sizing: border-box; -webkit-appearance: none; border: 0; background: #54C3A5; padding: 13px 10px; font-size: 16px; line-height: 16px; text-align: heart; shade: #fff; define: none; cursor: pointer; font-weight: 700; width: 100%; margin: 0; border-radius: 0; } html div#vHbBayqIax div#vHbBayqIax_inpost.columbine-container div.columbine-note { margin-top: 10px; line-height: regular; } html div#vHbBayqIax div#vHbBayqIax_inpost.columbine-container div.mo-optin-error { show: none; background: #FF0000; shade: white; text-align: heart; padding: .2em; margin: 0; width: 100%; font-size: 16px; -webkit-box-sizing: border-box; -moz-box-sizing: border-box; box-sizing: border-box; border: 1px strong #FF0000; } @media solely display screen and (max-width: 650px) { html div#vHbBayqIax div#vHbBayqIax_inpost.columbine-container div.mo-optin-error { margin-bottom: -10px; } html div#vHbBayqIax div#vHbBayqIax_inpost.columbine-container div.columbine-two-col1, html div#vHbBayqIax div#vHbBayqIax_inpost.columbine-container div.columbine-two-col2, html div#vHbBayqIax div#vHbBayqIax_inpost.columbine-container div.columbine-three-col1, html div#vHbBayqIax div#vHbBayqIax_inpost.columbine-container div.columbine-three-col2, html div#vHbBayqIax div#vHbBayqIax_inpost.columbine-container div.columbine-three-col3 { float: none; width: 100%; margin-right: 0; margin-top: 10px; } } html div#vHbBayqIax.mo-optin-has-custom-field div#vHbBayqIax_inpost.columbine-container div.columbine-column, html div#vHbBayqIax.mo-optin-has-custom-field div#vHbBayqIax_inpost.columbine-container div.columbine-two-col1, html div#vHbBayqIax.mo-optin-has-custom-field div#vHbBayqIax_inpost.columbine-container div.columbine-two-col2, html div#vHbBayqIax.mo-optin-has-custom-field div#vHbBayqIax_inpost.columbine-container div.columbine-three-col1, html div#vHbBayqIax.mo-optin-has-custom-field div#vHbBayqIax_inpost.columbine-container div.columbine-three-col2, html div#vHbBayqIax.mo-optin-has-custom-field div#vHbBayqIax_inpost.columbine-container div.columbine-three-col3 { float: none; width: 100%; margin-right: 0; margin-top: 10px; } html div#vHbBayqIax.mo-optin-has-custom-field div#vHbBayqIax_inpost.columbine-container div.columbine-column textarea.mo-optin-form-custom-field.textarea-field { min-height: 80px; }div#vHbBayqIax *, div#vHbBayqIax *:earlier than, div#vHbBayqIax *:after {box-sizing: border-box;-webkit-box-sizing: border-box;-moz-box-sizing: border-box;}div#vHbBayqIax_inpost_container div#vHbBayqIax_inpost .mo-optin-field:focus {define:0}div#vHbBayqIax_inpost_container div#vHbBayqIax_inpost .mo-optin-form-submit-button:focus {define:0}div#vHbBayqIax_inpost_container div.mo-optin-powered-by{margin:5px auto 2px;text-align:heart;}div#vHbBayqIax_inpost_container div.mo-optin-powered-by a {font-size:16px !vital; text-decoration: none !vital;box-shadow:none !vital;border-bottom-width:0px !vital;cursor:pointer !vital;}div#vHbBayqIax_inpost_container .mo-acceptance-checkbox {background-color: #fff;line-height: 0;border: 1px strong #bbb;width: 16px;min-width: 16px;top: 16px;margin: 0 5px 0 0 !vital;define: 0;text-align: heart;vertical-align: center;clear: none;cursor: pointer;}div#vHbBayqIax_inpost_container .mo-acceptance-label {cursor:pointer}div#vHbBayqIax_inpost_container div#vHbBayqIax_inpost p {padding:0px !vital;margin:0px !vital;shade:inherit;}div#vHbBayqIax .mo-optin-form-wrapper label {shade:inherit;font-weight: regular;margin: 0;padding:0;}div#vHbBayqIax div#vHbBayqIax_inpost_container div#vHbBayqIax_inpost enter[type=submit] {-webkit-appearance: none;}div#vHbBayqIax div#vHbBayqIax_inpost_container div#vHbBayqIax_inpost enter {z-index: auto;}div#vHbBayqIax.mo-cta-button-flag .mo-optin-form-note .mo-acceptance-label {show:none;}div#vHbBayqIax .mailoptin-video-container { place: relative; padding-bottom: 56.25%; top: 0; overflow: hidden; } div#vHbBayqIax .mailoptin-video-container iframe, div#vHbBayqIax .mailoptin-video-container object, div#vHbBayqIax .mailoptin-video-container embed, div#vHbBayqIax .mailoptin-video-container video { place: absolute; prime: 0; left: 0; width: 100%; top: 100%; }html div#vHbBayqIax div#vHbBayqIax_inpost.mo-optin-form-wrapper {max-width:100% !vital}#vHbBayqIax .mo-optin-form-container .mo-optin-spinner { border-radius: inherit; place: absolute; width: 100%; top: 100%; background: #fff url(https://katzenworld.co.uk/wp-content/plugins/mailoptin/src/core/src/property/photographs/spinner.gif) 50% 50% no-repeat; left: 0; prime: 0; opacity: 0.99; filter: alpha(opacity=80); } #vHbBayqIax .mo-optin-form-container .mo-optin-success-close { font-size: 32px !vital; font-family: "HelveticaNeue – Light", "Helvetica Neue Light", "Helvetica Neue", Helvetica, Arial, "Lucida Grande", sans-serif !vital; shade: #282828 !vital; font-weight: 300 !vital; place: absolute !vital; prime: 0 !vital; proper: 10px !vital; background: none !vital; text-decoration: none !vital; width: auto !vital; top: auto !vital; show: block !vital; line-height: 32px !vital; padding: 0 !vital; -moz-box-shadow: none !vital; -webkit-box-shadow: none !vital; box-shadow: none !vital; } #vHbBayqIax .mo-optin-form-container .mo-optin-form-wrapper .mo-optin-success-msg { font-size: 21px; font-family: "HelveticaNeue – Light", "Helvetica Neue Light", "Helvetica Neue", Helvetica, Arial, "Lucida Grande", sans-serif; shade: #282828 !vital; font-weight: 300; text-align: heart; margin: 0 auto; width: 100%; place: absolute !vital; left: 50%; prime: 50%; -webkit-transform: translate(-50%, -50%); -moz-transform: translate(-50%, -50%); -o-transform: translate(-50%, -50%); -ms-transform: translate(-50%, -50%); rework: translate(-50%, -50%); } #vHbBayqIax .mo-optin-form-container .mo-optin-form-wrapper .mo-optin-success-msg a { shade: #0000EE; text-decoration: underline; } html div#vHbBayqIax .mo-optin-form-container .mo-optin-form-wrapper .mo-optin-fields-wrapper .list_subscription-field:not(choose), html div#vHbBayqIax .mo-optin-form-container .mo-optin-form-wrapper .mo-optin-fields-wrapper .checkbox-field, html div#vHbBayqIax .mo-optin-form-container .mo-optin-form-wrapper .mo-optin-fields-wrapper .radio-field, html div#vHbBayqIax .mo-optin-form-container .mo-optin-form-wrapper .mo-optin-fields-wrapper .select-field { margin-top: 6px; } html div#vHbBayqIax .mo-optin-form-container .mo-optin-form-wrapper .mo-optin-fields-wrapper .checkbox-field, html div#vHbBayqIax .mo-optin-form-container .mo-optin-form-wrapper .mo-optin-fields-wrapper .radio-field, html div#vHbBayqIax .mo-optin-form-container .mo-optin-form-wrapper .mo-optin-fields-wrapper .select-field { text-align: left; padding: 6px; } html div#vHbBayqIax .mo-optin-form-container .mo-optin-form-wrapper .mo-optin-fields-wrapper .checkbox-field label, html div#vHbBayqIax .mo-optin-form-container .mo-optin-form-wrapper .mo-optin-fields-wrapper .radio-field label { show: block; text-align: left; margin-top: 6px; } html div#vHbBayqIax .mo-optin-form-container .mo-optin-form-wrapper .mo-optin-fields-wrapper .checkbox-field label enter, html div#vHbBayqIax .mo-optin-form-container .mo-optin-form-wrapper .mo-optin-fields-wrapper .radio-field label enter { margin-right: 5px; vertical-align: center; } html div#vHbBayqIax .mo-optin-form-container .mo-optin-form-wrapper .mo-optin-fields-wrapper .select-field choose { width: 100%; } html div#vHbBayqIax div#vHbBayqIax_inpost .mo-optin-fields-wrapper .list_subscription-field:not(choose), html div#vHbBayqIax div#vHbBayqIax_inpost .mo-optin-fields-wrapper .mo-optin-form-custom-field.checkbox-field, html div#vHbBayqIax div#vHbBayqIax_inpost .mo-optin-fields-wrapper .mo-optin-form-custom-field.radio-field { padding: 0 !vital; border: 0 !vital; background: clear !vital; } html div#vHbBayqIax .mo-optin-form-container .mo-optin-form-wrapper .mo-optin-fields-wrapper .list_subscription-field label { show: block !vital; margin: 5px 0 !vital; } html div#vHbBayqIax .mo-optin-form-container .mo-optin-form-wrapper .mo-optin-fields-wrapper .list_subscription-field label:last-child { margin: 0; } html div#vHbBayqIax .mo-optin-form-container .mo-optin-form-wrapper .mo-optin-fields-wrapper .list_subscription-field enter[type=checkbox] { cursor: pointer; } .mailoptin-content-lock { shade: clear!vital; text-shadow: rgba(0,0,0,.5) 0 0 10px; -moz-user-select: none; -ms-user-select: none; user-select: none; pointer-events: none; filter: url("knowledge:picture/svg+xml;utf9,#blur"); -webkit-filter: blur(10px); -ms-filter: blur(10px); -o-filter: blur(10px); filter: blur(10px); } div#vHbBayqIax div#vHbBayqIax_inpost .mo-optin-form-headline, div#vHbBayqIax div.mo-optin-form-container h2, div#vHbBayqIax div.mo-optin-form-container h1 { font-size: 32px !vital; }div#vHbBayqIax div#vHbBayqIax_inpost .mo-optin-form-description, div#vHbBayqIax div.mo-optin-form-container div#vHbBayqIax_inpost p { font-size: 18px !vital; }div#vHbBayqIax div#vHbBayqIax_inpost .mo-optin-form-note { font-size: 14px !vital; }@media display screen and (max-width: 768px) { div#vHbBayqIax div#vHbBayqIax_inpost .mo-optin-form-headline, div#vHbBayqIax div.mo-optin-form-container div#vHbBayqIax_inpost h2, div#vHbBayqIax div.mo-optin-form-container div#vHbBayqIax_inpost h1 { font-size: 30px !vital; } div#vHbBayqIax div#vHbBayqIax_inpost .mo-optin-form-description, div#vHbBayqIax div.mo-optin-form-container div#vHbBayqIax_inpost p { font-size: 18px !vital; } div#vHbBayqIax div#vHbBayqIax_inpost .mo-optin-form-note { font-size: 14px !vital; } }@media display screen and (max-width: 480px) { div#vHbBayqIax div#vHbBayqIax_inpost .mo-optin-form-headline, div#vHbBayqIax div.mo-optin-form-container div#vHbBayqIax_inpost h2, div#vHbBayqIax div.mo-optin-form-container div#vHbBayqIax_inpost h1 { font-size: 25px !vital; } div#vHbBayqIax div#vHbBayqIax_inpost .mo-optin-form-description, div#vHbBayqIax div.mo-optin-form-container div#vHbBayqIax_inpost p { font-size: 16px !vital; } div#vHbBayqIax div#vHbBayqIax_inpost .mo-optin-form-note, div#vHbBayqIax div#vHbBayqIax_inpost .mo-optin-form-note * { font-size: 12px !vital; } } #vHbBayqIax #vHbBayqIax_inpost .mo-optin-field.mo-optin-form-name-field::-webkit-input-placeholder { shade: #555555 !vital; } #vHbBayqIax #vHbBayqIax_inpost .mo-optin-field.mo-optin-form-name-field:-ms-input-placeholder { shade: #555555 !vital; } #vHbBayqIax #vHbBayqIax_inpost .mo-optin-field.mo-optin-form-name-field::placeholder { shade: #555555 !vital; } #vHbBayqIax #vHbBayqIax_inpost .mo-optin-field.mo-optin-form-email-field::-webkit-input-placeholder { shade: #555555 !vital; } #vHbBayqIax #vHbBayqIax_inpost .mo-optin-field.mo-optin-form-email-field:-ms-input-placeholder { shade: #555555 !vital; } #vHbBayqIax #vHbBayqIax_inpost .mo-optin-field.mo-optin-form-email-field::placeholder { shade: #555555 !vital; } div#vHbBayqIax .mo-mailchimp-interest-container { margin: 0 10px 2px; } div#vHbBayqIax .mo-mailchimp-interest-label { font-size: 16px; margin: 5px 0 2px; } div#vHbBayqIax .mo-mailchimp-interest-category-label { font-size: 14px; margin: 5px 0 2px; } div#vHbBayqIax enter.mo-mailchimp-interest-choice { line-height: regular; border: 0; margin: 0 5px; } div#vHbBayqIax span.mo-mailchimp-choice-label { vertical-align: center; font-size: 14px; } div#vHbBayqIax .mo-mailchimp-interest-choice-container { margin: 5px 0; }