Felix was rescued by the animal welfare charity and brought into the care of RSPCA Warrington in July
Felix was bald, coated in scabs, underweight and residing in poor situations when she was rescued by the RSPCA from a multi-cat family.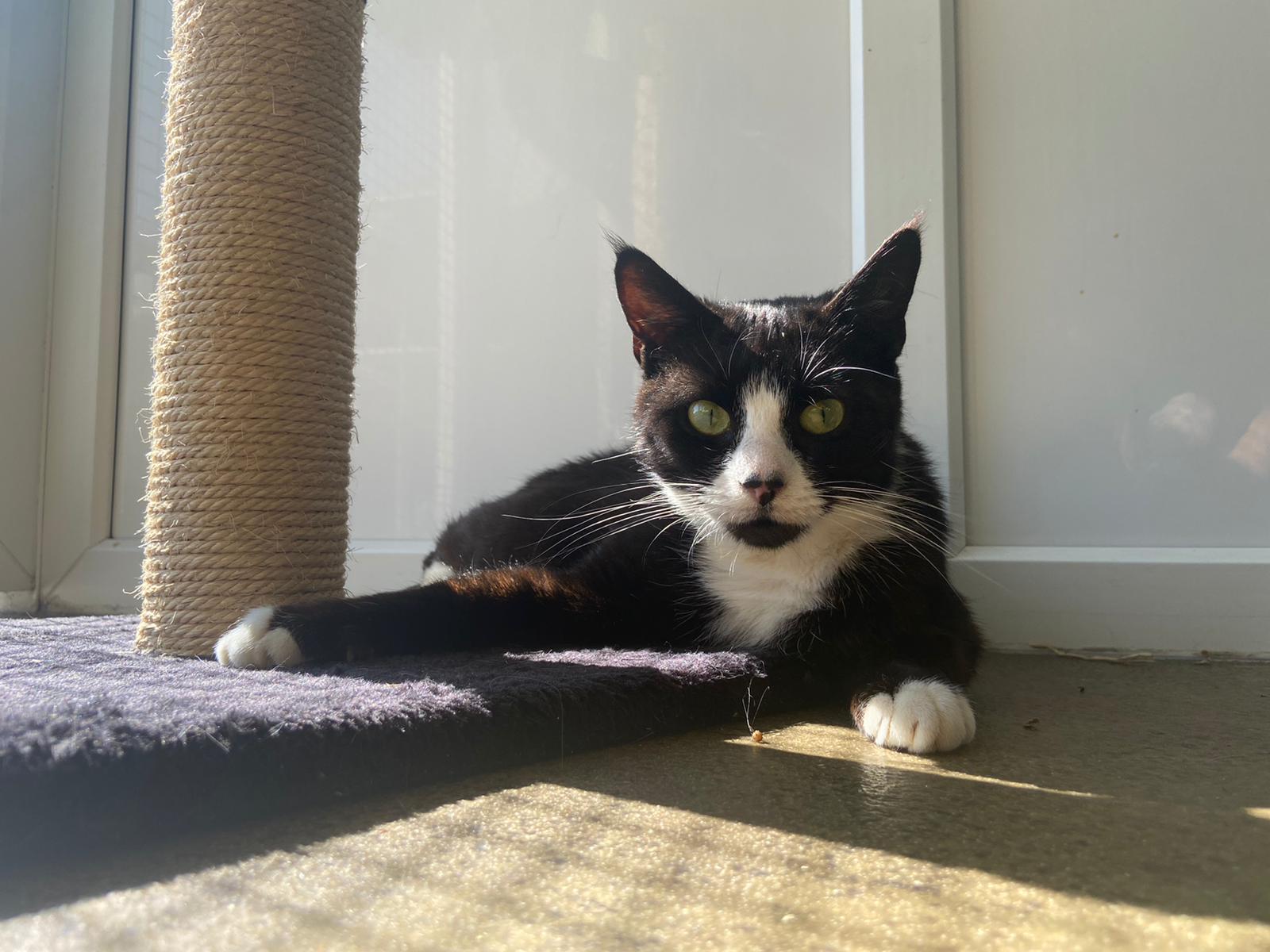 She got here into the care of the RSPCA Warrington, Halton and St Helen's department 4 months in the past after being rescued by an RSPCA inspector.
Sadly, the 5 12 months previous black and white cat was affected by an terrible pores and skin situation and flea allergic dermatitis from an absence of flea remedy.
She was furless, coated in scabs and really itchy. Felix was additionally malnourished and in want of some TLC.
Susanne Fearnley from the RSPCA department stated: "Poor Felix has had a tough begin in life after residing in a multi-cat family and sadly being uncared for. She was in want of a lot of TLC and fortunately is now again to full well being and is able to discover her perpetually residence.
"On arrival to the cattery she was very nervous and shy however has come on leaps and bounds and has now come out of her shell a lot that she is a little bit of a Princess! She undoubtedly has some 'cattitude' and can let when she's had sufficient fuss, as she likes consideration on her personal phrases."
Felix will want her new house owners to understand that she might have a extra hands-off method and doesn't like an excessive amount of fuss or to be picked up. However, when she is in a cuddly temper she is going to fortunately sit in your lap and take a fast cat nap. She additionally likes to play which is her favorite method to work together together with her carers on the department.
Susanne added: "Felix has been ready to seek out her perpetually residence for some time now and we've had little interest in her in any way. We actually don't know why that's. It's so unhappy as she is such a stunning cat and simply deserves her second likelihood at happiness."
Felix would like to be the one cat in her new residence, and want to be rehomed to an adult-only family. She couldn't dwell with a canine and she is going to want entry to the outside in order that she will discover.
If you assume you may give Felix an ideal residence, please contact the RSPCA Warrington, Halton and St Helen's department on contact@rspca-whs.org.uk or 01925 632944
To assist help the work of the department and assist animals in Merseyside please go to: https://www.rspca.org.uk/local/warrington-halton-and-st-helens-branch
We frequently write about all issues regarding cats on our Blog Katzenworld!
My associate and I are owned by 5 cheeky cats that stand up to all types of mischief that in fact, you'll additionally have the ability to discover out extra about on our Blog
If you have an interest in becoming a member of us by turning into an everyday contributor/visitor writer do drop us a message @ info@katzenworld.co.uk .
html div#vHbBayqIax div#vHbBayqIax_inpost.columbine-container { background: #fff; border: 3px stable #91a6bf; -webkit-border-radius: 5px; -moz-border-radius: 5px; border-radius: 5px; margin: 10px auto; text-align: middle; width: 100%; padding: 20px 30px; shade: #555; -webkit-box-sizing: border-box; -moz-box-sizing: border-box; box-sizing: border-box; } html div#vHbBayqIax div#vHbBayqIax_inpost.columbine-container div.columbine-miniText { font-size: 1em; line-height: 28px; text-transform: uppercase; shade: #54C3A5; font-weight: daring; font-family: Lora, Helvetica, Arial, sans-serif; } html div#vHbBayqIax div#vHbBayqIax_inpost.columbine-container div.columbine-heading { font-weight: daring; line-height: 1.5; } html div#vHbBayqIax div#vHbBayqIax_inpost.columbine-container div.columbine-caption { margin-top: 12px; font-style: italic; font-size: 18px; line-height: 28px; } html div#vHbBayqIax div#vHbBayqIax_inpost.columbine-container .columbine-form { overflow: hidden; margin-top: 20px; } html div#vHbBayqIax div#vHbBayqIax_inpost.columbine-container div.columbine-three-col1 { float: left; width: 33.333%; } html div#vHbBayqIax div#vHbBayqIax_inpost.columbine-container div.columbine-three-col2 { float: left; width: 33.333%; } html div#vHbBayqIax div#vHbBayqIax_inpost.columbine-container div.columbine-three-col3 { float: left; width: 33.333%; } html div#vHbBayqIax div#vHbBayqIax_inpost.columbine-container div.columbine-two-col1 { float: left; width: 66.333%; } html div#vHbBayqIax div#vHbBayqIax_inpost.columbine-container div.columbine-two-col2 { float: proper; width: 33.333%; } html div#vHbBayqIax div#vHbBayqIax_inpost.columbine-container enter.columbine-input, html div#vHbBayqIax div#vHbBayqIax_inpost.columbine-container enter.mo-optin-form-custom-field.date-field, html div#vHbBayqIax div#vHbBayqIax_inpost.columbine-container enter.mo-optin-form-custom-field.text-field, html div#vHbBayqIax div#vHbBayqIax_inpost.columbine-container enter.mo-optin-form-custom-field.password-field, html div#vHbBayqIax div#vHbBayqIax_inpost.columbine-container choose.mo-optin-form-custom-field, html div#vHbBayqIax div#vHbBayqIax_inpost.columbine-container textarea.mo-optin-form-custom-field { background-color: #ffffff; width: 100%; show: block; -webkit-box-sizing: border-box; -moz-box-sizing: border-box; box-sizing: border-box; -webkit-border-radius: 0; -moz-border-radius: 0; border-radius: 0; padding: 11px 17px; font-size: 16px; line-height: 16px; text-align: left; border: 1px stable #ccc; shade: #555; define: none; margin: 0; } html div#vHbBayqIax div#vHbBayqIax_inpost.columbine-container enter.columbine-input, html div#vHbBayqIax div#vHbBayqIax_inpost.columbine-container enter.mo-optin-form-custom-field.date-field, html div#vHbBayqIax div#vHbBayqIax_inpost.columbine-container enter.mo-optin-form-custom-field.text-field, html div#vHbBayqIax div#vHbBayqIax_inpost.columbine-container enter.mo-optin-form-custom-field.password-field, html div#vHbBayqIax div#vHbBayqIax_inpost.columbine-container textarea.mo-optin-form-custom-field.textarea-field { -webkit-appearance: none; } html div#vHbBayqIax div#vHbBayqIax_inpost.columbine-container enter.columbine-submit, html div#vHbBayqIax div#vHbBayqIax_inpost.columbine-container enter[type="submit"].mo-optin-form-cta-button { show: block; -webkit-box-sizing: border-box; -moz-box-sizing: border-box; box-sizing: border-box; -webkit-appearance: none; border: 0; background: #54C3A5; padding: 13px 10px; font-size: 16px; line-height: 16px; text-align: middle; shade: #fff; define: none; cursor: pointer; font-weight: 700; width: 100%; margin: 0; border-radius: 0; } html div#vHbBayqIax div#vHbBayqIax_inpost.columbine-container div.columbine-note { margin-top: 10px; line-height: regular; } html div#vHbBayqIax div#vHbBayqIax_inpost.columbine-container div.mo-optin-error { show: none; background: #FF0000; shade: white; text-align: middle; padding: .2em; margin: 0; width: 100%; font-size: 16px; -webkit-box-sizing: border-box; -moz-box-sizing: border-box; box-sizing: border-box; border: 1px stable #FF0000; } @media solely display screen and (max-width: 650px) { html div#vHbBayqIax div#vHbBayqIax_inpost.columbine-container div.mo-optin-error { margin-bottom: -10px; } html div#vHbBayqIax div#vHbBayqIax_inpost.columbine-container div.columbine-two-col1, html div#vHbBayqIax div#vHbBayqIax_inpost.columbine-container div.columbine-two-col2, html div#vHbBayqIax div#vHbBayqIax_inpost.columbine-container div.columbine-three-col1, html div#vHbBayqIax div#vHbBayqIax_inpost.columbine-container div.columbine-three-col2, html div#vHbBayqIax div#vHbBayqIax_inpost.columbine-container div.columbine-three-col3 { float: none; width: 100%; margin-right: 0; margin-top: 10px; } } html div#vHbBayqIax.mo-optin-has-custom-field div#vHbBayqIax_inpost.columbine-container div.columbine-column, html div#vHbBayqIax.mo-optin-has-custom-field div#vHbBayqIax_inpost.columbine-container div.columbine-two-col1, html div#vHbBayqIax.mo-optin-has-custom-field div#vHbBayqIax_inpost.columbine-container div.columbine-two-col2, html div#vHbBayqIax.mo-optin-has-custom-field div#vHbBayqIax_inpost.columbine-container div.columbine-three-col1, html div#vHbBayqIax.mo-optin-has-custom-field div#vHbBayqIax_inpost.columbine-container div.columbine-three-col2, html div#vHbBayqIax.mo-optin-has-custom-field div#vHbBayqIax_inpost.columbine-container div.columbine-three-col3 { float: none; width: 100%; margin-right: 0; margin-top: 10px; } html div#vHbBayqIax.mo-optin-has-custom-field div#vHbBayqIax_inpost.columbine-container div.columbine-column textarea.mo-optin-form-custom-field.textarea-field { min-height: 80px; }div#vHbBayqIax *, div#vHbBayqIax *:earlier than, div#vHbBayqIax *:after {box-sizing: border-box;-webkit-box-sizing: border-box;-moz-box-sizing: border-box;}div#vHbBayqIax_inpost_container div#vHbBayqIax_inpost .mo-optin-field:focus {define:0}div#vHbBayqIax_inpost_container div#vHbBayqIax_inpost .mo-optin-form-submit-button:focus {define:0}div#vHbBayqIax_inpost_container div.mo-optin-powered-by{margin:5px auto 2px;text-align:middle;}div#vHbBayqIax_inpost_container div.mo-optin-powered-by a {font-size:16px !necessary; text-decoration: none !necessary;box-shadow:none !necessary;border-bottom-width:0px !necessary;cursor:pointer !necessary;}div#vHbBayqIax_inpost_container .mo-acceptance-checkbox {background-color: #fff;line-height: 0;border: 1px stable #bbb;width: 16px;min-width: 16px;peak: 16px;margin: 0 5px 0 0 !necessary;define: 0;text-align: middle;vertical-align: center;clear: none;cursor: pointer;}div#vHbBayqIax_inpost_container .mo-acceptance-label {cursor:pointer}div#vHbBayqIax_inpost_container div#vHbBayqIax_inpost p {padding:0px !necessary;margin:0px !necessary;shade:inherit;}div#vHbBayqIax .mo-optin-form-wrapper label {shade:inherit;font-weight: regular;margin: 0;padding:0;}div#vHbBayqIax div#vHbBayqIax_inpost_container div#vHbBayqIax_inpost enter[type=submit] {-webkit-appearance: none;}div#vHbBayqIax div#vHbBayqIax_inpost_container div#vHbBayqIax_inpost enter {z-index: auto;}div#vHbBayqIax.mo-cta-button-flag .mo-optin-form-note .mo-acceptance-label {show:none;}div#vHbBayqIax .mailoptin-video-container { place: relative; padding-bottom: 56.25%; peak: 0; overflow: hidden; } div#vHbBayqIax .mailoptin-video-container iframe, div#vHbBayqIax .mailoptin-video-container object, div#vHbBayqIax .mailoptin-video-container embed, div#vHbBayqIax .mailoptin-video-container video { place: absolute; high: 0; left: 0; width: 100%; peak: 100%; }html div#vHbBayqIax div#vHbBayqIax_inpost.mo-optin-form-wrapper {max-width:100% !necessary}#vHbBayqIax .mo-optin-form-container .mo-optin-spinner { border-radius: inherit; place: absolute; width: 100%; peak: 100%; background: #fff url(https://katzenworld.co.uk/wp-content/plugins/mailoptin/src/core/src/belongings/pictures/spinner.gif) 50% 50% no-repeat; left: 0; high: 0; opacity: 0.99; filter: alpha(opacity=80); } #vHbBayqIax .mo-optin-form-container .mo-optin-success-close { font-size: 32px !necessary; font-family: "HelveticaNeue – Light", "Helvetica Neue Light", "Helvetica Neue", Helvetica, Arial, "Lucida Grande", sans-serif !necessary; shade: #282828 !necessary; font-weight: 300 !necessary; place: absolute !necessary; high: 0 !necessary; proper: 10px !necessary; background: none !necessary; text-decoration: none !necessary; width: auto !necessary; peak: auto !necessary; show: block !necessary; line-height: 32px !necessary; padding: 0 !necessary; -moz-box-shadow: none !necessary; -webkit-box-shadow: none !necessary; box-shadow: none !necessary; } #vHbBayqIax .mo-optin-form-container .mo-optin-form-wrapper .mo-optin-success-msg { font-size: 21px; font-family: "HelveticaNeue – Light", "Helvetica Neue Light", "Helvetica Neue", Helvetica, Arial, "Lucida Grande", sans-serif; shade: #282828 !necessary; font-weight: 300; text-align: middle; margin: 0 auto; width: 100%; place: absolute !necessary; left: 50%; high: 50%; -webkit-transform: translate(-50%, -50%); -moz-transform: translate(-50%, -50%); -o-transform: translate(-50%, -50%); -ms-transform: translate(-50%, -50%); rework: translate(-50%, -50%); } #vHbBayqIax .mo-optin-form-container .mo-optin-form-wrapper .mo-optin-success-msg a { shade: #0000EE; text-decoration: underline; } html div#vHbBayqIax .mo-optin-form-container .mo-optin-form-wrapper .mo-optin-fields-wrapper .list_subscription-field:not(choose), html div#vHbBayqIax .mo-optin-form-container .mo-optin-form-wrapper .mo-optin-fields-wrapper .checkbox-field, html div#vHbBayqIax .mo-optin-form-container .mo-optin-form-wrapper .mo-optin-fields-wrapper .radio-field, html div#vHbBayqIax .mo-optin-form-container .mo-optin-form-wrapper .mo-optin-fields-wrapper .select-field { margin-top: 6px; } html div#vHbBayqIax .mo-optin-form-container .mo-optin-form-wrapper .mo-optin-fields-wrapper .checkbox-field, html div#vHbBayqIax .mo-optin-form-container .mo-optin-form-wrapper .mo-optin-fields-wrapper .radio-field, html div#vHbBayqIax .mo-optin-form-container .mo-optin-form-wrapper .mo-optin-fields-wrapper .select-field { text-align: left; padding: 6px; } html div#vHbBayqIax .mo-optin-form-container .mo-optin-form-wrapper .mo-optin-fields-wrapper .checkbox-field label, html div#vHbBayqIax .mo-optin-form-container .mo-optin-form-wrapper .mo-optin-fields-wrapper .radio-field label { show: block; text-align: left; margin-top: 6px; } html div#vHbBayqIax .mo-optin-form-container .mo-optin-form-wrapper .mo-optin-fields-wrapper .checkbox-field label enter, html div#vHbBayqIax .mo-optin-form-container .mo-optin-form-wrapper .mo-optin-fields-wrapper .radio-field label enter { margin-right: 5px; vertical-align: center; } html div#vHbBayqIax .mo-optin-form-container .mo-optin-form-wrapper .mo-optin-fields-wrapper .select-field choose { width: 100%; } html div#vHbBayqIax div#vHbBayqIax_inpost .mo-optin-fields-wrapper .list_subscription-field:not(choose), html div#vHbBayqIax div#vHbBayqIax_inpost .mo-optin-fields-wrapper .mo-optin-form-custom-field.checkbox-field, html div#vHbBayqIax div#vHbBayqIax_inpost .mo-optin-fields-wrapper .mo-optin-form-custom-field.radio-field { padding: 0 !necessary; border: 0 !necessary; background: clear !necessary; } html div#vHbBayqIax .mo-optin-form-container .mo-optin-form-wrapper .mo-optin-fields-wrapper .list_subscription-field label { show: block !necessary; margin: 5px 0 !necessary; } html div#vHbBayqIax .mo-optin-form-container .mo-optin-form-wrapper .mo-optin-fields-wrapper .list_subscription-field label:last-child { margin: 0; } html div#vHbBayqIax .mo-optin-form-container .mo-optin-form-wrapper .mo-optin-fields-wrapper .list_subscription-field enter[type=checkbox] { cursor: pointer; } .mailoptin-content-lock { shade: clear!necessary; text-shadow: rgba(0,0,0,.5) 0 0 10px; -moz-user-select: none; -ms-user-select: none; user-select: none; pointer-events: none; filter: url("knowledge:picture/svg+xml;utf9,#blur"); -webkit-filter: blur(10px); -ms-filter: blur(10px); -o-filter: blur(10px); filter: blur(10px); } div#vHbBayqIax div#vHbBayqIax_inpost .mo-optin-form-headline, div#vHbBayqIax div.mo-optin-form-container h2, div#vHbBayqIax div.mo-optin-form-container h1 { font-size: 32px !necessary; }div#vHbBayqIax div#vHbBayqIax_inpost .mo-optin-form-description, div#vHbBayqIax div.mo-optin-form-container div#vHbBayqIax_inpost p { font-size: 18px !necessary; }div#vHbBayqIax div#vHbBayqIax_inpost .mo-optin-form-note { font-size: 14px !necessary; }@media display screen and (max-width: 768px) { div#vHbBayqIax div#vHbBayqIax_inpost .mo-optin-form-headline, div#vHbBayqIax div.mo-optin-form-container div#vHbBayqIax_inpost h2, div#vHbBayqIax div.mo-optin-form-container div#vHbBayqIax_inpost h1 { font-size: 30px !necessary; } div#vHbBayqIax div#vHbBayqIax_inpost .mo-optin-form-description, div#vHbBayqIax div.mo-optin-form-container div#vHbBayqIax_inpost p { font-size: 18px !necessary; } div#vHbBayqIax div#vHbBayqIax_inpost .mo-optin-form-note { font-size: 14px !necessary; } }@media display screen and (max-width: 480px) { div#vHbBayqIax div#vHbBayqIax_inpost .mo-optin-form-headline, div#vHbBayqIax div.mo-optin-form-container div#vHbBayqIax_inpost h2, div#vHbBayqIax div.mo-optin-form-container div#vHbBayqIax_inpost h1 { font-size: 25px !necessary; } div#vHbBayqIax div#vHbBayqIax_inpost .mo-optin-form-description, div#vHbBayqIax div.mo-optin-form-container div#vHbBayqIax_inpost p { font-size: 16px !necessary; } div#vHbBayqIax div#vHbBayqIax_inpost .mo-optin-form-note, div#vHbBayqIax div#vHbBayqIax_inpost .mo-optin-form-note * { font-size: 12px !necessary; } } #vHbBayqIax #vHbBayqIax_inpost .mo-optin-field.mo-optin-form-name-field::-webkit-input-placeholder { shade: #555555 !necessary; } #vHbBayqIax #vHbBayqIax_inpost .mo-optin-field.mo-optin-form-name-field:-ms-input-placeholder { shade: #555555 !necessary; } #vHbBayqIax #vHbBayqIax_inpost .mo-optin-field.mo-optin-form-name-field::placeholder { shade: #555555 !necessary; } #vHbBayqIax #vHbBayqIax_inpost .mo-optin-field.mo-optin-form-email-field::-webkit-input-placeholder { shade: #555555 !necessary; } #vHbBayqIax #vHbBayqIax_inpost .mo-optin-field.mo-optin-form-email-field:-ms-input-placeholder { shade: #555555 !necessary; } #vHbBayqIax #vHbBayqIax_inpost .mo-optin-field.mo-optin-form-email-field::placeholder { shade: #555555 !necessary; } div#vHbBayqIax .mo-mailchimp-interest-container { margin: 0 10px 2px; } div#vHbBayqIax .mo-mailchimp-interest-label { font-size: 16px; margin: 5px 0 2px; } div#vHbBayqIax .mo-mailchimp-interest-category-label { font-size: 14px; margin: 5px 0 2px; } div#vHbBayqIax enter.mo-mailchimp-interest-choice { line-height: regular; border: 0; margin: 0 5px; } div#vHbBayqIax span.mo-mailchimp-choice-label { vertical-align: center; font-size: 14px; } div#vHbBayqIax .mo-mailchimp-interest-choice-container { margin: 5px 0; }