Community Cats Podcast will host the much-anticipated Online Feline Leukemia Day on July 16, 2022.
This one-day occasion has a singular concentrate on cats with feline leukemia (sometimes called FeLV) and what animal shelters, veterinarians, caregivers, and pet dad and mom can do to help them of their journey. Sessions will embody updates concerning therapy and prognosis, in addition to really useful finest practices for shelter applications, and different essential matters.
Speakers embody Jae Kennedy and Adrienne Lefebvre of Two Crazy Cat Ladies, an all-natural feline product line designed to assist cats stay longer and more healthy lives, and others from a wide range of fields throughout the animal welfare house.
Sessions will run from 10 a.m. – 5 p.m. EDT. Registration is $25 and contains entry to the stay occasion and recordings after the occasion has handed. Individuals fascinated by attending this may't-miss occasion ought to register here.
More details about Online Feline Leukemia Day, together with classes and audio system, is obtainable on the convention web site here.
Advertisements
The full vary of Necoichi raised bowls and accent now out there @ Katzenworld Shop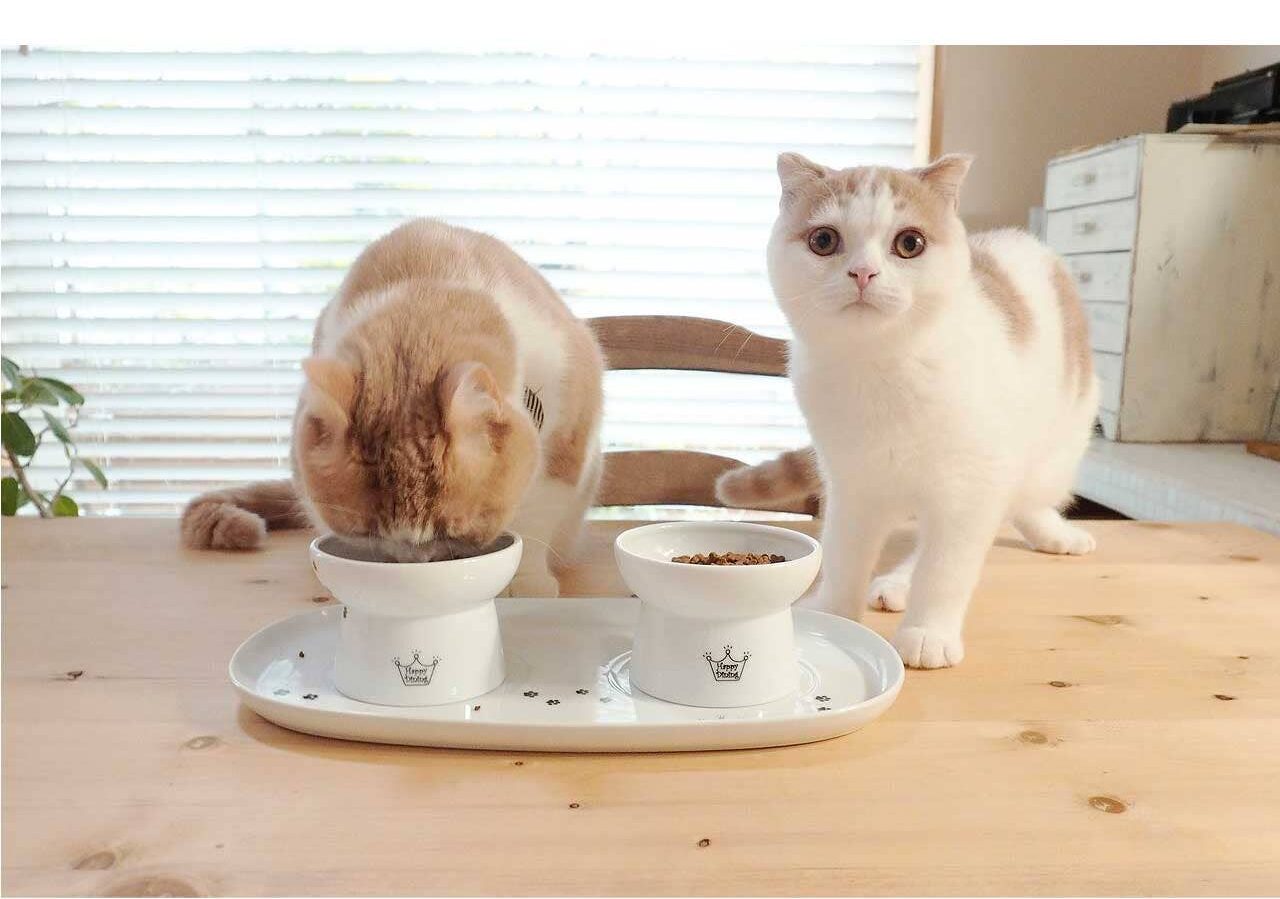 We commonly write about all issues regarding cats on our Blog Katzenworld!
My accomplice and I are owned by 5 cheeky cats that stand up to every kind of mischief that after all, you'll additionally be capable of discover out extra about on our Blog
If you have an interest in becoming a member of us by turning into a daily contributor/visitor creator do drop us a message @ info@katzenworld.co.uk .
html div#vHbBayqIax div#vHbBayqIax_inpost.columbine-container { background: #fff; border: 3px strong #91a6bf; -webkit-border-radius: 5px; -moz-border-radius: 5px; border-radius: 5px; margin: 10px auto; text-align: middle; width: 100%; padding: 20px 30px; coloration: #555; -webkit-box-sizing: border-box; -moz-box-sizing: border-box; box-sizing: border-box; } html div#vHbBayqIax div#vHbBayqIax_inpost.columbine-container div.columbine-miniText { font-size: 1em; line-height: 28px; text-transform: uppercase; coloration: #54C3A5; font-weight: daring; font-family: Lora, Helvetica, Arial, sans-serif; } html div#vHbBayqIax div#vHbBayqIax_inpost.columbine-container div.columbine-heading { font-weight: daring; line-height: 1.5; } html div#vHbBayqIax div#vHbBayqIax_inpost.columbine-container div.columbine-caption { margin-top: 12px; font-style: italic; font-size: 18px; line-height: 28px; } html div#vHbBayqIax div#vHbBayqIax_inpost.columbine-container .columbine-form { overflow: hidden; margin-top: 20px; } html div#vHbBayqIax div#vHbBayqIax_inpost.columbine-container div.columbine-three-col1 { float: left; width: 33.333%; } html div#vHbBayqIax div#vHbBayqIax_inpost.columbine-container div.columbine-three-col2 { float: left; width: 33.333%; } html div#vHbBayqIax div#vHbBayqIax_inpost.columbine-container div.columbine-three-col3 { float: left; width: 33.333%; } html div#vHbBayqIax div#vHbBayqIax_inpost.columbine-container div.columbine-two-col1 { float: left; width: 66.333%; } html div#vHbBayqIax div#vHbBayqIax_inpost.columbine-container div.columbine-two-col2 { float: proper; width: 33.333%; } html div#vHbBayqIax div#vHbBayqIax_inpost.columbine-container enter.columbine-input, html div#vHbBayqIax div#vHbBayqIax_inpost.columbine-container enter.mo-optin-form-custom-field.date-field, html div#vHbBayqIax div#vHbBayqIax_inpost.columbine-container enter.mo-optin-form-custom-field.text-field, html div#vHbBayqIax div#vHbBayqIax_inpost.columbine-container enter.mo-optin-form-custom-field.password-field, html div#vHbBayqIax div#vHbBayqIax_inpost.columbine-container choose.mo-optin-form-custom-field, html div#vHbBayqIax div#vHbBayqIax_inpost.columbine-container textarea.mo-optin-form-custom-field { background-color: #ffffff; width: 100%; show: block; -webkit-box-sizing: border-box; -moz-box-sizing: border-box; box-sizing: border-box; -webkit-border-radius: 0; -moz-border-radius: 0; border-radius: 0; padding: 11px 17px; font-size: 16px; line-height: 16px; text-align: left; border: 1px strong #ccc; coloration: #555; define: none; margin: 0; } html div#vHbBayqIax div#vHbBayqIax_inpost.columbine-container enter.columbine-input, html div#vHbBayqIax div#vHbBayqIax_inpost.columbine-container enter.mo-optin-form-custom-field.date-field, html div#vHbBayqIax div#vHbBayqIax_inpost.columbine-container enter.mo-optin-form-custom-field.text-field, html div#vHbBayqIax div#vHbBayqIax_inpost.columbine-container enter.mo-optin-form-custom-field.password-field, html div#vHbBayqIax div#vHbBayqIax_inpost.columbine-container textarea.mo-optin-form-custom-field.textarea-field { -webkit-appearance: none; } html div#vHbBayqIax div#vHbBayqIax_inpost.columbine-container enter.columbine-submit, html div#vHbBayqIax div#vHbBayqIax_inpost.columbine-container enter[type="submit"].mo-optin-form-cta-button { show: block; -webkit-box-sizing: border-box; -moz-box-sizing: border-box; box-sizing: border-box; -webkit-appearance: none; border: 0; background: #54C3A5; padding: 13px 10px; font-size: 16px; line-height: 16px; text-align: middle; coloration: #fff; define: none; cursor: pointer; font-weight: 700; width: 100%; margin: 0; border-radius: 0; } html div#vHbBayqIax div#vHbBayqIax_inpost.columbine-container div.columbine-note { margin-top: 10px; line-height: regular; } html div#vHbBayqIax div#vHbBayqIax_inpost.columbine-container div.mo-optin-error { show: none; background: #FF0000; coloration: white; text-align: middle; padding: .2em; margin: 0; width: 100%; font-size: 16px; -webkit-box-sizing: border-box; -moz-box-sizing: border-box; box-sizing: border-box; border: 1px strong #FF0000; } @media solely display screen and (max-width: 650px) { html div#vHbBayqIax div#vHbBayqIax_inpost.columbine-container div.mo-optin-error { margin-bottom: -10px; } html div#vHbBayqIax div#vHbBayqIax_inpost.columbine-container div.columbine-two-col1, html div#vHbBayqIax div#vHbBayqIax_inpost.columbine-container div.columbine-two-col2, html div#vHbBayqIax div#vHbBayqIax_inpost.columbine-container div.columbine-three-col1, html div#vHbBayqIax div#vHbBayqIax_inpost.columbine-container div.columbine-three-col2, html div#vHbBayqIax div#vHbBayqIax_inpost.columbine-container div.columbine-three-col3 { float: none; width: 100%; margin-right: 0; margin-top: 10px; } } html div#vHbBayqIax.mo-optin-has-custom-field div#vHbBayqIax_inpost.columbine-container div.columbine-column, html div#vHbBayqIax.mo-optin-has-custom-field div#vHbBayqIax_inpost.columbine-container div.columbine-two-col1, html div#vHbBayqIax.mo-optin-has-custom-field div#vHbBayqIax_inpost.columbine-container div.columbine-two-col2, html div#vHbBayqIax.mo-optin-has-custom-field div#vHbBayqIax_inpost.columbine-container div.columbine-three-col1, html div#vHbBayqIax.mo-optin-has-custom-field div#vHbBayqIax_inpost.columbine-container div.columbine-three-col2, html div#vHbBayqIax.mo-optin-has-custom-field div#vHbBayqIax_inpost.columbine-container div.columbine-three-col3 { float: none; width: 100%; margin-right: 0; margin-top: 10px; } html div#vHbBayqIax.mo-optin-has-custom-field div#vHbBayqIax_inpost.columbine-container div.columbine-column textarea.mo-optin-form-custom-field.textarea-field { min-height: 80px; }div#vHbBayqIax *, div#vHbBayqIax *:earlier than, div#vHbBayqIax *:after {box-sizing: border-box;-webkit-box-sizing: border-box;-moz-box-sizing: border-box;}div#vHbBayqIax_inpost_container div#vHbBayqIax_inpost .mo-optin-field:focus {define:0}div#vHbBayqIax_inpost_container div#vHbBayqIax_inpost .mo-optin-form-submit-button:focus {define:0}div#vHbBayqIax_inpost_container div.mo-optin-powered-by{margin:5px auto 2px;text-align:middle;}div#vHbBayqIax_inpost_container div.mo-optin-powered-by a {font-size:16px !essential; text-decoration: none !essential;box-shadow:none !essential;border-bottom-width:0px !essential;cursor:pointer !essential;}div#vHbBayqIax_inpost_container .mo-acceptance-checkbox {background-color: #fff;line-height: 0;border: 1px strong #bbb;width: 16px;min-width: 16px;top: 16px;margin: 0 5px 0 0 !essential;define: 0;text-align: middle;vertical-align: center;clear: none;cursor: pointer;}div#vHbBayqIax_inpost_container .mo-acceptance-label {cursor:pointer}div#vHbBayqIax_inpost_container div#vHbBayqIax_inpost p {padding:0px !essential;margin:0px !essential;coloration:inherit;}div#vHbBayqIax .mo-optin-form-wrapper label {coloration:inherit;font-weight: regular;margin: 0;padding:0;}div#vHbBayqIax div#vHbBayqIax_inpost_container div#vHbBayqIax_inpost enter[type=submit] {-webkit-appearance: none;}div#vHbBayqIax div#vHbBayqIax_inpost_container div#vHbBayqIax_inpost enter {z-index: auto;}div#vHbBayqIax.mo-cta-button-flag .mo-optin-form-note .mo-acceptance-label {show:none;}div#vHbBayqIax .mailoptin-video-container { place: relative; padding-bottom: 56.25%; top: 0; overflow: hidden; } div#vHbBayqIax .mailoptin-video-container iframe, div#vHbBayqIax .mailoptin-video-container object, div#vHbBayqIax .mailoptin-video-container embed, div#vHbBayqIax .mailoptin-video-container video { place: absolute; prime: 0; left: 0; width: 100%; top: 100%; }html div#vHbBayqIax div#vHbBayqIax_inpost.mo-optin-form-wrapper {max-width:100% !essential}#vHbBayqIax .mo-optin-form-container .mo-optin-spinner { border-radius: inherit; place: absolute; width: 100%; top: 100%; background: #fff url(https://katzenworld.co.uk/wp-content/plugins/mailoptin/src/core/src/property/pictures/spinner.gif) 50% 50% no-repeat; left: 0; prime: 0; opacity: 0.99; filter: alpha(opacity=80); } #vHbBayqIax .mo-optin-form-container .mo-optin-success-close { font-size: 32px !essential; font-family: "HelveticaNeue – Light", "Helvetica Neue Light", "Helvetica Neue", Helvetica, Arial, "Lucida Grande", sans-serif !essential; coloration: #282828 !essential; font-weight: 300 !essential; place: absolute !essential; prime: 0 !essential; proper: 10px !essential; background: none !essential; text-decoration: none !essential; width: auto !essential; top: auto !essential; show: block !essential; line-height: 32px !essential; padding: 0 !essential; -moz-box-shadow: none !essential; -webkit-box-shadow: none !essential; box-shadow: none !essential; } #vHbBayqIax .mo-optin-form-container .mo-optin-form-wrapper .mo-optin-success-msg { font-size: 21px; font-family: "HelveticaNeue – Light", "Helvetica Neue Light", "Helvetica Neue", Helvetica, Arial, "Lucida Grande", sans-serif; coloration: #282828 !essential; font-weight: 300; text-align: middle; margin: 0 auto; width: 100%; place: absolute !essential; left: 50%; prime: 50%; -webkit-transform: translate(-50%, -50%); -moz-transform: translate(-50%, -50%); -o-transform: translate(-50%, -50%); -ms-transform: translate(-50%, -50%); remodel: translate(-50%, -50%); } #vHbBayqIax .mo-optin-form-container .mo-optin-form-wrapper .mo-optin-success-msg a { coloration: #0000EE; text-decoration: underline; } html div#vHbBayqIax .mo-optin-form-container .mo-optin-form-wrapper .mo-optin-fields-wrapper .list_subscription-field:not(choose), html div#vHbBayqIax .mo-optin-form-container .mo-optin-form-wrapper .mo-optin-fields-wrapper .checkbox-field, html div#vHbBayqIax .mo-optin-form-container .mo-optin-form-wrapper .mo-optin-fields-wrapper .radio-field, html div#vHbBayqIax .mo-optin-form-container .mo-optin-form-wrapper .mo-optin-fields-wrapper .select-field { margin-top: 6px; } html div#vHbBayqIax .mo-optin-form-container .mo-optin-form-wrapper .mo-optin-fields-wrapper .checkbox-field, html div#vHbBayqIax .mo-optin-form-container .mo-optin-form-wrapper .mo-optin-fields-wrapper .radio-field, html div#vHbBayqIax .mo-optin-form-container .mo-optin-form-wrapper .mo-optin-fields-wrapper .select-field { text-align: left; padding: 6px; } html div#vHbBayqIax .mo-optin-form-container .mo-optin-form-wrapper .mo-optin-fields-wrapper .checkbox-field label, html div#vHbBayqIax .mo-optin-form-container .mo-optin-form-wrapper .mo-optin-fields-wrapper .radio-field label { show: block; text-align: left; margin-top: 6px; } html div#vHbBayqIax .mo-optin-form-container .mo-optin-form-wrapper .mo-optin-fields-wrapper .checkbox-field label enter, html div#vHbBayqIax .mo-optin-form-container .mo-optin-form-wrapper .mo-optin-fields-wrapper .radio-field label enter { margin-right: 5px; vertical-align: center; } html div#vHbBayqIax .mo-optin-form-container .mo-optin-form-wrapper .mo-optin-fields-wrapper .select-field choose { width: 100%; } html div#vHbBayqIax div#vHbBayqIax_inpost .mo-optin-fields-wrapper .list_subscription-field:not(choose), html div#vHbBayqIax div#vHbBayqIax_inpost .mo-optin-fields-wrapper .mo-optin-form-custom-field.checkbox-field, html div#vHbBayqIax div#vHbBayqIax_inpost .mo-optin-fields-wrapper .mo-optin-form-custom-field.radio-field { padding: 0 !essential; border: 0 !essential; background: clear !essential; } html div#vHbBayqIax .mo-optin-form-container .mo-optin-form-wrapper .mo-optin-fields-wrapper .list_subscription-field label { show: block !essential; margin: 5px 0 !essential; } html div#vHbBayqIax .mo-optin-form-container .mo-optin-form-wrapper .mo-optin-fields-wrapper .list_subscription-field label:last-child { margin: 0; } html div#vHbBayqIax .mo-optin-form-container .mo-optin-form-wrapper .mo-optin-fields-wrapper .list_subscription-field enter[type=checkbox] { cursor: pointer; } .mailoptin-content-lock { coloration: clear!essential; text-shadow: rgba(0,0,0,.5) 0 0 10px; -moz-user-select: none; -ms-user-select: none; user-select: none; pointer-events: none; filter: url("information:picture/svg+xml;utf9,#blur"); -webkit-filter: blur(10px); -ms-filter: blur(10px); -o-filter: blur(10px); filter: blur(10px); } div#vHbBayqIax div#vHbBayqIax_inpost .mo-optin-form-headline, div#vHbBayqIax div.mo-optin-form-container h2, div#vHbBayqIax div.mo-optin-form-container h1 { font-size: 32px !essential; }div#vHbBayqIax div#vHbBayqIax_inpost .mo-optin-form-description, div#vHbBayqIax div.mo-optin-form-container div#vHbBayqIax_inpost p { font-size: 18px !essential; }div#vHbBayqIax div#vHbBayqIax_inpost .mo-optin-form-note { font-size: 14px !essential; }@media display screen and (max-width: 768px) { div#vHbBayqIax div#vHbBayqIax_inpost .mo-optin-form-headline, div#vHbBayqIax div.mo-optin-form-container div#vHbBayqIax_inpost h2, div#vHbBayqIax div.mo-optin-form-container div#vHbBayqIax_inpost h1 { font-size: 30px !essential; } div#vHbBayqIax div#vHbBayqIax_inpost .mo-optin-form-description, div#vHbBayqIax div.mo-optin-form-container div#vHbBayqIax_inpost p { font-size: 18px !essential; } div#vHbBayqIax div#vHbBayqIax_inpost .mo-optin-form-note { font-size: 14px !essential; } }@media display screen and (max-width: 480px) { div#vHbBayqIax div#vHbBayqIax_inpost .mo-optin-form-headline, div#vHbBayqIax div.mo-optin-form-container div#vHbBayqIax_inpost h2, div#vHbBayqIax div.mo-optin-form-container div#vHbBayqIax_inpost h1 { font-size: 25px !essential; } div#vHbBayqIax div#vHbBayqIax_inpost .mo-optin-form-description, div#vHbBayqIax div.mo-optin-form-container div#vHbBayqIax_inpost p { font-size: 16px !essential; } div#vHbBayqIax div#vHbBayqIax_inpost .mo-optin-form-note, div#vHbBayqIax div#vHbBayqIax_inpost .mo-optin-form-note * { font-size: 12px !essential; } } #vHbBayqIax #vHbBayqIax_inpost .mo-optin-field.mo-optin-form-name-field::-webkit-input-placeholder { coloration: #555555 !essential; } #vHbBayqIax #vHbBayqIax_inpost .mo-optin-field.mo-optin-form-name-field:-ms-input-placeholder { coloration: #555555 !essential; } #vHbBayqIax #vHbBayqIax_inpost .mo-optin-field.mo-optin-form-name-field::placeholder { coloration: #555555 !essential; } #vHbBayqIax #vHbBayqIax_inpost .mo-optin-field.mo-optin-form-email-field::-webkit-input-placeholder { coloration: #555555 !essential; } #vHbBayqIax #vHbBayqIax_inpost .mo-optin-field.mo-optin-form-email-field:-ms-input-placeholder { coloration: #555555 !essential; } #vHbBayqIax #vHbBayqIax_inpost .mo-optin-field.mo-optin-form-email-field::placeholder { coloration: #555555 !essential; } div#vHbBayqIax .mo-mailchimp-interest-container { margin: 0 10px 2px; } div#vHbBayqIax .mo-mailchimp-interest-label { font-size: 16px; margin: 5px 0 2px; } div#vHbBayqIax .mo-mailchimp-interest-category-label { font-size: 14px; margin: 5px 0 2px; } div#vHbBayqIax enter.mo-mailchimp-interest-choice { line-height: regular; border: 0; margin: 0 5px; } div#vHbBayqIax span.mo-mailchimp-choice-label { vertical-align: center; font-size: 14px; } div#vHbBayqIax .mo-mailchimp-interest-choice-container { margin: 5px 0; }